Apple Banana Smoothie with Orange Juice and Flax Seeds
by Editorial Staff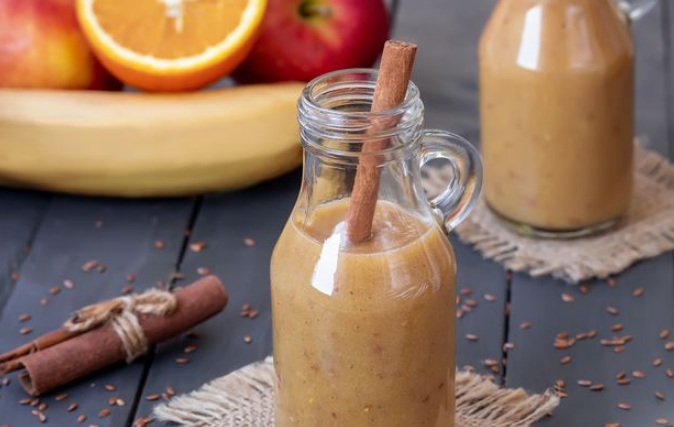 A delicious apple and banana fruit smoothie with orange juice, flaxseed, and cinnamon is a great option for a light breakfast or a healthy snack that can be made in just 5 minutes. Honey will make the drink sweeter, while flax seeds will add vitamins and provide an interesting texture. Try it, it's delicious!
Cook: 5 min.
Servings: 2
Ingredients
Bananas – 2 pcs. (400 g)
Apples – 2 pcs. (300 g)
Oranges (juice) – 2 pcs. (500 g)
or orange juice – 200 ml
Honey – 10-20 g
Flax seeds – 10 g
Ground cinnamon – 1 / 4-1 / 2 teaspoon
Directions
Oranges are best taken juicy – heavy, with thin and bright skin.
Wash the apples thoroughly and remove the seed capsule from each. Peel the bananas. Cut the apples into large cubes and the bananas into slices. Squeeze the juice out of the oranges – you can use a juicer for this purpose. Or, simply roll each orange on a table or board, applying gentle pressure to prevent cracking. Then cut the oranges into halves and manually squeeze the juice out of each (I got about 200 ml).
Place the sliced bananas and apples in a blender bowl. Add flaxseeds and orange juice.
Whisk in a blender on high speed for about 2-3 minutes, until smooth.
Whisk the smoothie in a blender for about 30-40 seconds.
Apple-banana smoothie with orange juice and cinnamon is ready. Pour this healthy drink into glasses and serve. Bon Appetit!
Also Like
Comments for "Apple Banana Smoothie with Orange Juice and Flax Seeds"