Banana Bread or Muffin
by Editorial Staff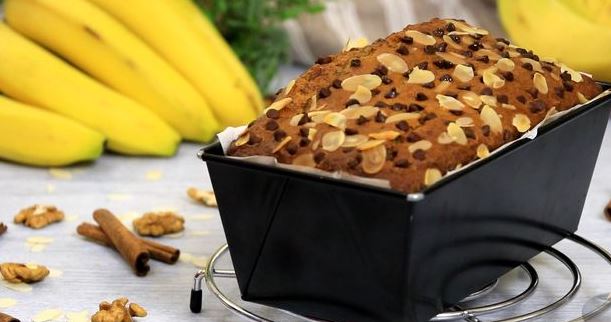 Not sure what to do with overripe bananas that have already started to turn black? Don't rush to throw them away! I propose a recipe for banana cake or bread, as it is also called, the main ingredient of which is overripe bananas. Delicate, moist, fragrant, moderately sweet, with a cinnamon aroma that spreads throughout the house – this is how you can simply describe this cake.
Ingredients
Overripe bananas (large) – 3-4 pcs.or banana puree – 400 g
Flour – 250 g
Butter 82.5% (room temperature) – 115 g
White sugar – 100 g
Brown sugar – 50 g
Eggs (large, room temperature) – 2 pcs.
Sour cream 20% – 75 g
Walnuts (chopped, optional) – 80 g
Vanilla extract – 2 teaspoon
Baking dough – 2 teaspoon
Baking soda – 1 teaspoon
Ground cinnamon – 1 teaspoon
Salt – 1 pinch
For decoration:
Almond petals – to taste
Heat-resistant chocolate drops – to taste
Directions
Preparing the banana bread dough. Combine flour, baking soda, baking powder, cinnamon powder, and salt in a small bowl. (If you don't like the smell of cinnamon in baked goods, you can skip this ingredient.) Sift dry ingredients through a sieve, mix thoroughly with a whisk, and set aside.
Peel the ripe bananas and cut them into slices. (I recommend that you definitely use overripe bananas with blackened skin – it is with them that your baked goods will turn out to be moist and aromatic.) Transfer the bananas to a bowl and knead them thoroughly with a fork until smooth.
In another dish, combine room temperature butter, white and brown sugar. Beat until creamy for about 2-3 minutes. Drive eggs into the oil mixture one by one, beating well after each added egg.

Add vanilla extract, sour cream, and banana puree there. Beat with a mixer until smooth. Add the prepared dry ingredients in parts and beat with a mixer until smooth.
At the very end, add chopped walnuts and mix thoroughly with a spatula. The consistency of the dough should be like a very thick sour cream.
Cover a rectangular baking dish measuring 20×10 cm and 7 cm high with baking paper (or grease with butter and sprinkle with flour). Put the banana dough in a mold and spread evenly. Sprinkle with almond petals and heat-resistant chocolate drops on top.

Bake banana bread in a preheated 175 ° C oven for about 50-60 minutes, until golden brown or until a toothpick inserted in the center is dry. (If the banana bread turns brown during baking, cover the top of the tin with foil and bake until tender.)
After baking, let the banana cake cool in the pan for 15 minutes. Then take the cake out of the mold, place it on the wire rack, and remove the baking paper. In this form, leave the cake at room temperature until it cools completely.
This banana bread is perfectly sweet, moist, and delicious! Perfect for breakfast or dessert! You will also appreciate the shelf life of this delicious banana bread. You will have a whole week to enjoy it. Only in practice, this is not feasible, because it is eaten much faster.
Bon appetit and good baking!
Also Like
Comments for "Banana Bread or Muffin"