Beetroot or Cold Borscht
by Editorial Staff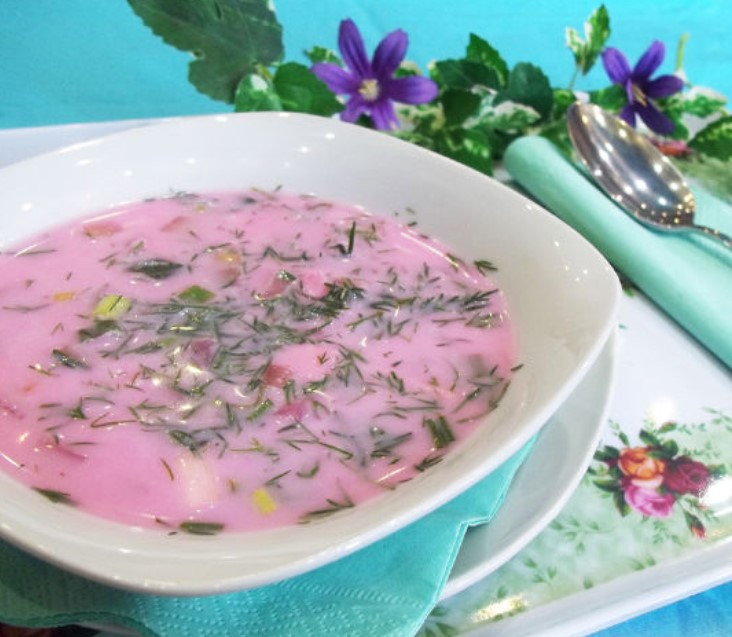 My beetroot recipe is classic. But the list of ingredients that can be included in this dish is very wide. For example, you can add boiled carrots, radishes or sorrel to the beetroot. Replace sour cream with cream, and sausage with boiled meat. I even once ate beetroot with boiled crayfish. Therefore, as you can see, in the preparation of this dish you just need to put a little imagination.
Ingredients
Beets – 1 pc.
Potatoes – 4 pcs.
Eggs – 5 pcs.
Cooked sausage (milk) – 300 grams
Fresh cucumbers – 4 pcs.
Green onions – 1 bunch
Dill – 1 bunch
Sour cream – 400 grams
Salt to taste
Citric acid – to taste
Vinegar – 1 teaspoon
Directions
We will start our dish with beets. We will clean it, cut it into cubes, put it in a saucepan, fill it with water, add vinegar and send it to cook until cooked. Vinegar is essential to maintain the bright burgundy color.

Boil the potatoes in salted water, peel them, cut them into cubes and send them to a saucepan in which we will cook the beetroot.
We will also boil the eggs, peel them, cut them and put them on the potatoes.
We do the same with the milk sausage – cut into cubes and put in a saucepan.
Wash the dill, chop and add to all products.
Wash cucumbers, cut and send to the pan.
Do the same with green onions.
Well, and the final touch of our dish – we send the boiled beets into the pan and pour the beet broth in which it was cooked.

If the beet broth is not enough, and it happened to me, add boiled chilled water, kvass, kefir, mineral water or broth to the beetroot soup. Season the beetroot with salt, citric acid, add sour cream and stir.
Serve chilled. If it's not cold enough, place a couple of ice cubes on a plate.

Enjoy your meal!
Also Like
Comments for "Beetroot or Cold Borscht"