Borscht with Beet Kvass
by Editorial Staff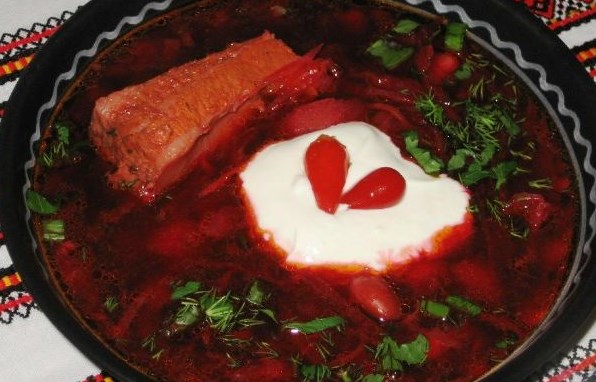 Borscht is a bright and tasty representative of how you can combine all the best from borscht recipes from different regions. It has everything from the classic Ukrainian borscht, as well as rich burgundy color from Galician borscht, thanks to the use of beet kvass and boiled beets.
Ingredients
Pork with the bone (pork ribs) – 400-500g
Bay leaf – 2 pcs.
Black peppercorns – 5-6 pcs.
Beans – 2/3 cup
Carrots – 1 pc. (100g)
Parsley root – 1 pc. (100g)
Onion – 1 onion (100g)
Potatoes – 400g
Beets – 1-2 pcs. (400g)
Fresh cabbage – 300g
Garlic – 2-3 cloves
Salt
Freshly ground black pepper
Fat (lard, margarine, butter) – 100g
Tomato sauce – 4 tbsp or tomato paste – 2 tbsp
Beet kvass – 0.5l
Parsley and dill – 3-4 sprigs
Sour cream – to taste
Directions
For borscht, beet kvass must be prepared in a few days. How to make beet kvass: Peel 2 to 3 small beets, cut into slices, and place in a glass jar. I got 1.5 liters. Add crusty rye bread slices and cover with warm water. If there is no rye bread, dilute half a teaspoon of dry yeast and 1 tablespoon with warm water. a spoonful of sugar. Pour into a jar of beets and add warm water two fingers below the rim of the jar. Leave in the kitchen, the temperature for fermentation is needed at least 18-20 degrees. After 5 days, the beet kvass for borsch will be ready. It can be drained and stored in the refrigerator, and the beets can be refilled with water. Kvass is very beautiful in color and has a slightly sour taste.
Soak the beans in advance for 3-4 hours. The beans can be boiled separately and added to the borsch at the end, or together with the broth.

Wash the beets and boil them separately. Cut the pork into pieces, add 3 liters of water, bring to a boil, remove the foam, reduce the heat, add bay leaves and peppers and cook until the meat is tender for 1 hour or a little more. After skimming off the foam, you can pour the beans into the broth. Meanwhile, prepare the vegetables. Wash and clean them.
Finely chop the onion and grate or cut into small strips the carrots and parsley root. Pass the vegetables into half the fat.
Cool the finished beets, peel, and grate on a coarse grater. Heat the remaining fat in a frying pan and sprinkle the beets on it, add tomato sauce (tomato paste), pour in a little beetroot kvass, and simmer for another 5-7 minutes. Fresh tomatoes are available in summer. Scald them, peel, and grate.

Cut potatoes into cubes and pour into the finished broth. Cook for 10 minutes. Then add fresh cabbage cut into strips. Cook for 5 minutes. Add the sautéed vegetables and beets. When it boils, pour in the beet kvass and bring to a boil again. Salt to taste. Boil the borscht in kvass for 3-5 minutes. At the end add pounded (or pressed) garlic and chopped herbs. Turn off the heat and let the borscht brew for 20 minutes.

Put sour cream in a plate to taste, sprinkle borsch with freshly ground black pepper or add hot red pepper if desired. Bon Appetit!
Also Like
Comments for "Borscht with Beet Kvass"