Chicken Borscht
by Editorial Staff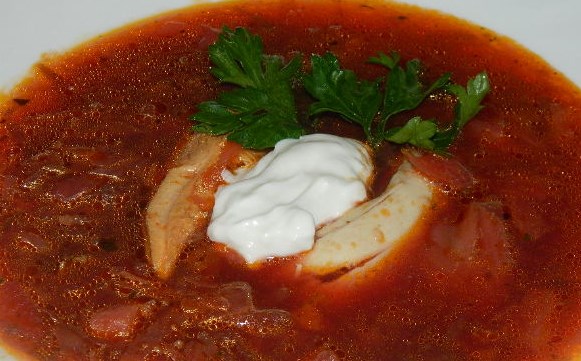 Do you like borscht? I propose to cook this Ukrainian dish with tender chicken.
Ingredients
Chicken – 600 g
Water – 3 l
Bulb onions – 2 pcs.
Garlic – 3 teeth.
Potatoes – 400 g
Carrots – 200 g
Beets – 300 g
Cabbage – 400 g
Celery root – 50 g
Tomato paste – 2 tablespoons
Lard or bacon – 50 g
Salt to taste
Spices for borscht – to taste
Greens – 10 g
Vegetable oil – 50 ml
Directions
Rinse the chicken, chop it into pieces. Cover with water and leave for half an hour. Drain the water from the chicken, cover with clean water, add the peeled onion, and put on fire. Bring broth to a boil, remove the foam, reduce heat, and cook for 30 minutes.

Peel the potatoes, wash, cut into cubes. Add potatoes to broth. Cook for 10 minutes.
Meanwhile, peel the beets, heat the vegetable oil in a frying pan, fry the beets grated on a coarse grater for 2-3 minutes, add to the borscht. Cook for 10 minutes.

Peel the onion, cut into small cubes. Heat vegetable oil in a frying pan, fry the onion in it until golden brown.
Fry the carrots on a coarse grater together with the onions for 2-3 minutes. Add celery root grated on a coarse grater to the carrots. Fry all together for another 1 minute. Pour roots into borscht and cook for 5 minutes.

Chop the cabbage, add to the boiling borscht. Cook until the cabbage is done for about 15 minutes.

Melt lard cubes in a frying pan. Add tomato paste to the lard. Fry for 30 seconds. Season with salt to taste, add spices. Season the borsch with frying, add the bay leaf. Boil for another 5 minutes.
Crush the garlic in a mortar. Add garlic and finely chopped herbs to the borscht. Remove the chicken borscht from the heat. You can serve chicken borsch with sour cream.
Enjoy your meal!
Also Like
Comments for "Chicken Borscht"