Chicken Enchiladas
by Editorial Staff
The recipe for the preparation of Mexican casserole with chicken filling.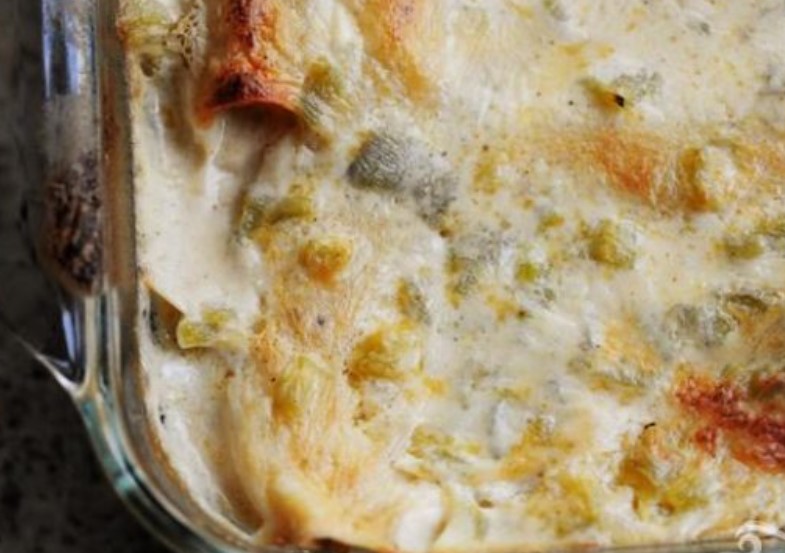 Cook: 2 hour
Servings: 6
Ingredients
Canola oil – 3 tbsp
Mexican tortillas – 12 Pieces
Onion – 1 Piece
Green Chili – 100 Grams
Jalapeno – 1 Piece
Paprika – 1 Teaspoon
Butter – 2 Tbsp. spoons
Flour – 2 Art. spoons
Sour cream – 1 Glass
Salt – 1/2 Teaspoon (to taste)
Black pepper – 1/2 Teaspoon (to taste)
Spicy sauce – 1 Piece (optional)
Cilantro – 1 Piece
Directions
Rinse the chicken and toss it into the pot.

To fill with water.
Bring to a boil, simmer for 30 minutes over low heat.
Pour some rapeseed oil into a heated skillet.
Fry the Mexican tortillas, 15-20 seconds each.
Place the cakes on a towel to remove excess oil.

Chop the onion finely.
Chop up the green chili.
Do the same with jalapeno peppers.
Grate the cheese.
By this time, the chicken will be ready.
Measure out 2 cups of broth.Separate meat from bones.
Pour art. l. rapeseed oil. Turn on medium heat.
Fry the onions and peppers.
Add chili and chicken after a minute.
Pour in 1/2 cup of broth.
Sprinkle with paprika.
Pour in 1/2 cup cream.
To stir thoroughly.

You can add olives, they will make the dish even tastier.
To prepare the white sauce: Melt a piece of butter in a separate skillet.
Add flour and whisk.
Pour in the remaining chicken broth.
Add green chili.
Add sour cream.
Sprinkle with paprika.
Add grated Monterey cheese.
Spice up.
Place the chicken on the tortillas.
Sprinkle with grated cheese on top.

Roll the cakes into rolls and place in a baking dish.
Pour the white sauce over the mold. Bake for 30 minutes.
Sprinkle the finished dish with cilantro.
Bon appetit!
Also Like
Comments for "Chicken Enchiladas"