Chocolate Curd Mousse
by Editorial Staff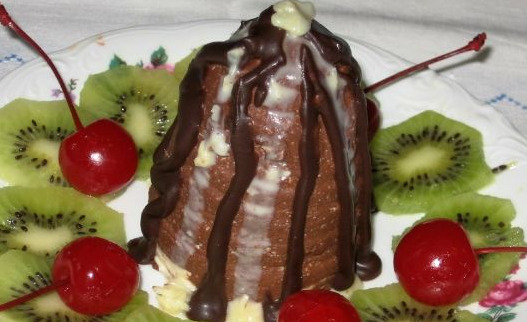 Delicious dessert. Cottage cheese is not felt at all. Nice, chocolate airy "mousses".
Ingredients
Cottage cheese – 300 g
Gelatin – 1 tbsp
Milk – 100 ml
Sugar – 3 tbsp
Vanilla – 1 sachet (2 g)
Thick cream (30% or more) – 250 g
Black chocolate – 200 g
For decoration:
Kiwi – 1 pc.
Cocktail cherry
Directions
How to make chocolate mousse with cottage cheese:
Pour gelatin with cold milk and let stand for 15 minutes.
That's how it swelled up. Heat it in a water bath until it is completely dissolved.
Melt the chocolate in a water bath.
Rub the cottage cheese through a sieve. Beat the cream with sugar and vanilla sugar until firm foam.
Stir the whipped cream and gelatin into the curd, separate 1/4 of the mass.
Add 2/3 chocolate to most of the cottage cheese, mix thoroughly, and put in molds.
There are no beautiful molds, I decided to use ice cream caps, collected them while the grandchildren were visiting. For stability, I put the lids in an egg holder from an old refrigerator.
Add the remaining white curd mass to the molds. The mass is thick, does not mix, so there is room for creativity. The masses in the molds can be alternated – you get a striped mousse. You can first put the white mass, then the chocolate. Put the molds with cottage cheese and chocolate mousse in the cold until they solidify.
There were no problems "getting out" of the molds. It is enough to hold them in warm hands, and then turn them over and shake them over the plate. Heat the remaining chocolate and garnish with the chocolate-curd mousse. You can add fruit to the decoration. I have kiwi and cocktail cherries.
Bon Appetit!
Also Like
Comments for "Chocolate Curd Mousse"