Cold Soup with Beetroot and Vegetable Broth
by Editorial Staff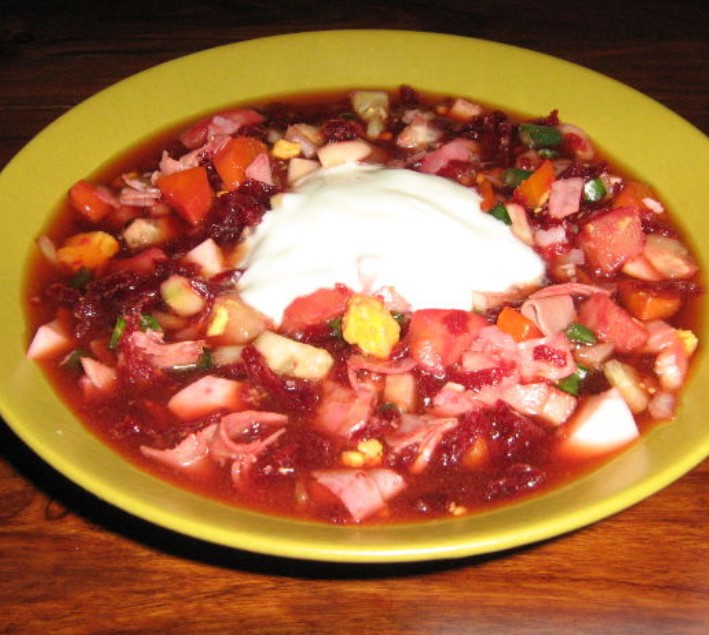 In summer, it is very good to dine with cold soup. After a few experiments (this is a new dish for me) I settled on this version of cold beetroot soup. I really like this light soup with vegetables and ham.
Servings: 4
Ingredients
Beets – 1-2 pcs.
Potatoes – 1 pc.
Carrots – 1 pc.
Green beans – 15 pcs.
Fresh cucumber – 1 pc.
Ham – 100-150 g
Eggs – 2 pcs.
Bulb onions – 1/2 pc.
Green onions – 1 bunch
Fresh dill – to taste
Sour cream – to taste
Salt to taste
Ground black pepper – to taste
Black peppercorns – 3 pcs.
Cloves – 1 pc.
Bay leaf – 1 pc.
Directions
Peel the beets , carrots and potatoes (you can cut them into large pieces) and boil them in salted water, with the addition of bay leaves, cloves and black peppercorns. Carrots and potatoes will cook earlier, check their readiness after 15 minutes. The boiling time of beets depends on their size (30-40 minutes). Add the green beans to the vegetable broth about 10 minutes before the beets are cooked. Cool boiled vegetables and vegetable broth.

Peel the cucumber if it is tough and cut into small cubes.
Dice the carrots.
Cut the green beans into pieces.
Diced potatoes.
Grate beets on a coarse grater.
Finely chop the ham.
Chop the onion finely.
Chop green onions.
Hard-boiled eggs in advance, cool, peel and chop too.
Mix all the ingredients, salt and pepper. Chill in the refrigerator.
Pour cold vegetable broth.

Add sour cream or yoghurt and chopped herbs to the cold soup.

Enjoy your meal!
Also Like
Comments for "Cold Soup with Beetroot and Vegetable Broth"