French Toast with Strawberries and Cinnamon
by Editorial Staff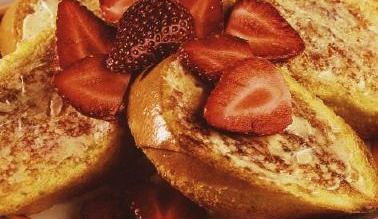 An incredibly delicious dessert, loved by adults since childhood and adored by children. Soft on the inside and crispy on the outside, sweet and aromatic, these are all mouth-watering French toast.
Servings: 4
Ingredients
Egg – 1 pc.
Milk – ¼ glass
Vanilla – ½ teaspoon
French bread (baguette) – 4 slices about 2.5 cm thick
Butter – 1 tbsp
Sugar – 2 teaspoon
Ground cinnamon – ¼ teaspoon
Sliced ​​strawberries – 1 glass
Directions
Preheat oven to 220 degrees. Grease a non-stick baking sheet.
Mix egg, milk, and vanilla. Dip the slices of bread in the egg and milk mixture and place them on a baking sheet. Roast the toast in the oven for 15 minutes (turn over to the other side after 7-8 minutes).
In a small bowl, whisk butter, sugar, and cinnamon. Oil the French toast and place the strawberries on top.
Enjoy your meal!
Also Like
Comments for "French Toast with Strawberries and Cinnamon"