Fried Eggs with Cottage Cheese, in the Oven
by Editorial Staff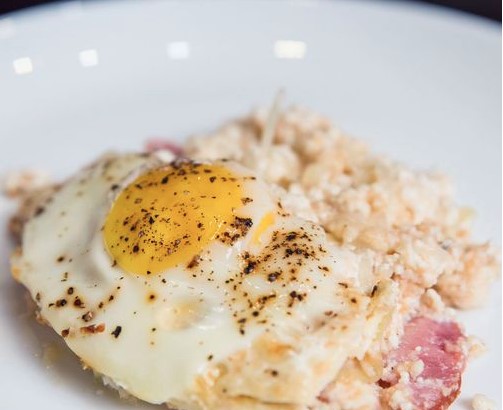 This is a delicious fried egg on a cottage cheese bed with ham, onion and bread crumbs.
Ingredients
Eggs – 4 pcs.
Medium-sized onion – 1 pc.
Fresh thyme – 1-2 branches
Large bread crumbs – 2 cups
Cottage cheese – 400 g
Cream – 1/2 cup
Sliced ​​ham – 100 g
Vegetable oil – for frying
Salt to taste
Freshly ground black pepper – to taste
Directions
Preheat the oven to 220 ° C, turning on the heating only from the bottom. Coarsely grate the baguette to make about 2 cups of large bread crumbs. Dry in the oven for 7-8 minutes. Cut the onion into quarters.
Add vegetable oil to the pan. Add thyme to cold vegetable oil. Heat up. Add thinly chopped onions. Fry until the onion is soft and transparent. Remove the thyme sprigs. Turn off heat, add bread crumbs and stir.

In a bowl, combine the cottage cheese and cream until smooth. Season with salt and pepper.
Add onion with bread crumbs and stir. Devide into two parts. Place the first portion in a baking dish. Place thinly sliced ​​ham on top.
Spread the second part of the curd mass on top. On the surface, make hollows for the yolks with a spoon. Break the eggs and put them on the surface of the curd mass so that the yolk falls into the depression. Spice up. Bake scrambled eggs with cottage cheese in the oven for 25-30 minutes.

Fried eggs with cottage cheese are ready.
Enjoy your meal!
Also Like
Comments for "Fried Eggs with Cottage Cheese, in the Oven"