Fried Pies with Potatoes
by Editorial Staff
Pies, home warmth, grandma, childhood memories … Who among us doesn't like fried pies ?! By modern standards, all this is harmful. I don't really understand the fanatical negative attitude towards high-calorie foods. There is no other way to survive in our country. It is good in Turkey for fruits and vegetables, it is warm there. We have different climatic conditions. Yes, of course, fried pies are high in calories, but how delicious!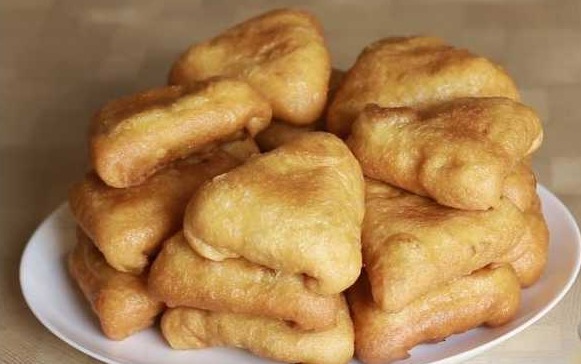 Ingredients
For the dough:
Flour – 400 g
Water – 250 ml
Vegetable oil – 2 tbsp
Fresh yeast – 15 g
or dry yeast – 1 teaspoon.
Salt – 0.5 teaspoon.
Sugar – 1.5 teaspoon.
Soda – 1/4 teaspoon.
For filling:
Potatoes – 700-800 g
Bulb onions – 2-3 pcs.
Salt
Fried mushrooms (optional) – 150 g
or fresh mushrooms – 250 g
Vegetable oil
Directions
Dissolve the yeast in half a glass of warm water. Add 0.5 teaspoon. sugar and 2 teaspoon. flour, loosen up and let the yeast come up for 10-15 minutes (until the foam appears).
Separate about 100 g flour. Add sugar, salt and soda to the rest of the flour. Pour in the yeast dough and the remaining water with vegetable oil. Stir.

Pour the remaining flour onto the table and knead the dough for 7-8 minutes (up to 10 minutes). The dough should be smooth, tender, not tough, should not stick to your hands and table.
Place the yeast dough in a warm place until it increases in volume by 2-2.5 times (for 1-2 hours).
Prepare foods for the filling. Peel the potatoes and cook in salted water until tender.
Mash boiled potatoes in mashed potatoes.
Chop the onion, fry. Add mushrooms and sauté onion with mushrooms until tender.
Add onion and mushrooms to the potatoes.
Stir the filling, salt to taste.
When the dough rises well, start forming the patties.
On a table greased with vegetable oil, divide the dough into portions (about 20 parts), roll up, cover with cling film and leave for 20 minutes.
Make tortillas from the dough, place the filling on them (1 tablespoon each) and form pies with potatoes and mushrooms. The shape of the pies is at your discretion.

Pour the vegetable oil into a deep frying pan in a layer of about 1.5 cm, heat it.
Fry the pies on both sides until golden brown.
Fried pies with potatoes are ready.
Bon Appetit!
Also Like
Comments for "Fried Pies with Potatoes"