Fried Puff Samsa with Meat
by Editorial Staff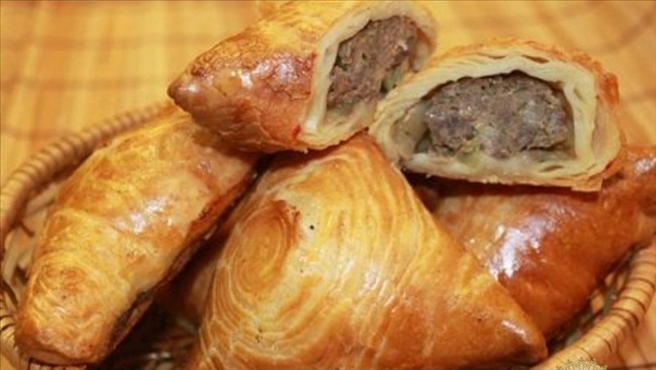 Samsa is a popular dish in South and Central Asia. There are many recipes for this dish. We offer you a recipe for a delicious fried puff samsa with meat (gushtli kovurma varaki somsa).
Ingredients
Puff pastry – 500 g (from 200 g margarine)
Beef or lamb – 300 g
Onions – 300 g
Salt – 1 teaspoon
Ground black pepper – 0.5 teaspoon
Ground Zira – 0.5 teaspoon
Vegetable oil – for frying
Directions
We prepare products for samsa.

How to cook fried flaky samsa with meat:
We pass 300 grams of beef or lamb pulp through a meat grinder.
Cut 300 grams of onion into small cubes.
In a frying pan with a thick bottom, heat 1 tablespoon of vegetable oil and, stirring from time to time, lightly fry the prepared meat.
Add the chopped onion, salt with 1 teaspoon of salt, stir and fry until the onion is transparent. Add half a teaspoon of ground black pepper and half a teaspoon of ground cumin, remove from heat, stir and cool.
Roll out 500 grams of puff pastry made from 200 grams of margarine into a rectangular layer approximately 5 millimeters thick.

We divide the resulting layer into 12 identical rectangles, on each we put two teaspoons of the filling with the top.
Grease the dough around the filling with egg white or egg.
We shape a rectangular samsa by pressing with our fingers around the filling so that the edges of the dough do not stick together.
Fry puff samsa with meat in deep oil, heated to 180 degrees, until golden brown.
Put the finished samsa on a paper towel so that excess fat is absorbed.
We shift the samsa with meat to a dish and serve.
Also Like
Comments for "Fried Puff Samsa with Meat"