Kebab in the Microwave
by Editorial Staff
In the microwave, the shashlik turned out to be very tasty and juicy. Of course, there is no smell of fire and smoke, but still. So all meat lovers feel free to take the recipe for kebab in the microwave on board. Pork is marinated with ketchup and ground pepper.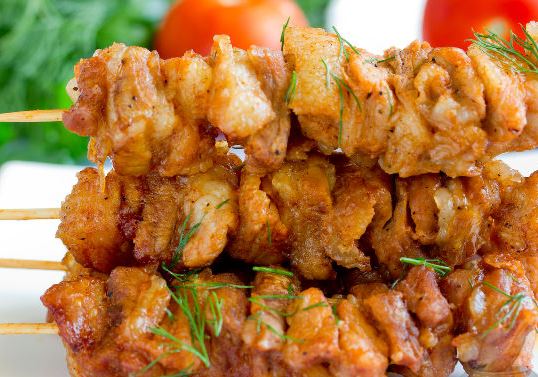 Cook: 1 hour 30 minutes
Servings: 4
Ingredients
Pork belly – 600 g
Ketchup – 1.5 tbsp
Ground black pepper – 3 pinches
Ground red pepper – 3 pinches
Salt – 0.5 teaspoon.
Directions
Cut the meat into small pieces, about the same shape.
We transfer the meat to a bowl, add ketchup, black pepper, red pepper, salt.

Mix everything with your hand, rubbing the spices into the meat, and leave it to marinate at room temperature for 1 hour. In the refrigerator, meat can be marinated longer – up to 24 hours.
Then we string the meat on wooden skewers so that the pieces fit snugly against one another.

We shift the kebabs to a plate that can be placed in the microwave. Cooking kebabs in a microwave oven at 800 W as follows: 5 minutes on one side – turn over, 5 minutes on the other side – turn over, again 5 minutes on the first side. After these three five-minute approaches, we leave the ready-made kebabs in the already switched off microwave oven for another 5 minutes – let them stand, they will reach.
Enjoy your meal!
Also Like
Comments for "Kebab in the Microwave"