Kefir Cupcake
by Editorial Staff
Prepare a cupcake with kefir, it is very simple and affordable even for a novice pastry chef. The kefir cupcake turns out not too "heavy", does not require a lot of effort in preparation, is economical and never gets boring!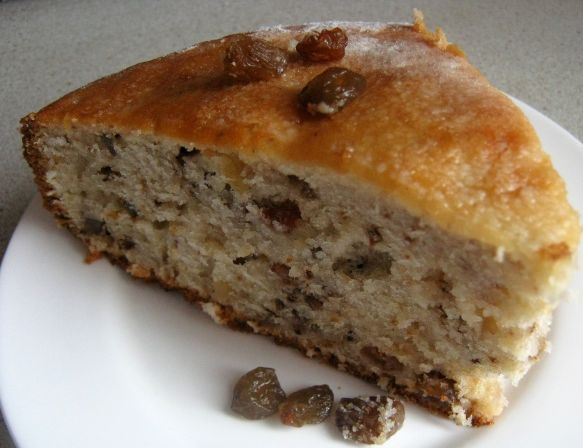 Cook: 50 mins
Servings: 12
Ingredients
Kefir – 2 glasses
Butter – 150 g
Eggs – 4 pcs.
Raisins – 50 g
Nuts – 50 g
Flour – 3-3.5 cups
Sugar – 1.5 cups
Soda – 0.5 teaspoon
Vinegar – 1 teaspoon
Salt – 1 pinch
Powdered sugar – 2-3 tbsp
Directions
Get the butter out of the refrigerator in advance. Peel the walnuts. Crush them with a rolling pin on a cutting board.
Wash raisins with hot water.
Turn on the oven.
Grind eggs with sugar.
Add softened butter, kefir, raisins, nuts.

Quench the baking soda with vinegar, pour into the egg-oil mixture.
Sift flour. Add flour and mix well.
Grease the cake pan with butter. Put a lot in it.
Bake in the oven on the middle shelf, over medium heat (180 degrees) for 15-20 minutes, then on low (110 degrees) for another 20-25 minutes.
The cupcake is ready when a crack forms on the top. Readiness can be checked by sticking a stick in the middle: if the dough does not stick to it, the cake can be taken out. The cake pan can be put on a wet towel, and then, after 10-15 minutes. turn onto a plate. Then the cake will easily come out of the mold.
The kefir cupcake is ready. You can sprinkle it with powdered sugar.
Also Like
Comments for "Kefir Cupcake"