Kharcho for the Winter
by Editorial Staff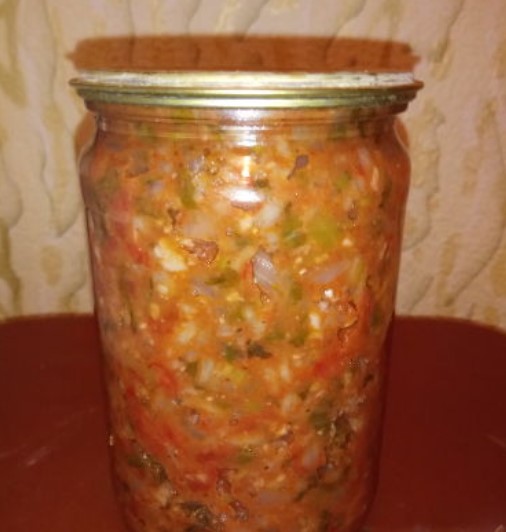 Preparation for the winter "Kharcho". You will have to tinker in the summer, but in the winter it will come in handy! As the saying goes, "winter will eat everything!"
Servings: 2
Ingredients
Tomatoes – 2 kg
Plum – 200 g
Onions – 500 g
Garlic – 100 g
Chili pepper – 1 pc.
Walnuts (without them) – 100 g
Cilantro (parsley) – 2 bunches
Rice (without it) – 150 g
Hmeli-suneli – 1 tbsp
Peppercorns – 6 pcs.
Bay leaf – 1 pc.
Salt – 1 tbsp
Sugar – 2 tbsp
Vinegar – 3 tbsp
Vegetable oil – 100 ml
Directions
Pour boiling water over the tomatoes, peel, grind (meat grinder, blender).
Cut the onion and chili pepper, put it in a pan with butter.
Sprinkle onion with chili hops-suneli, fry until golden brown.

Boil the plums for 10 minutes.
We grind the plum through a sieve.
We get the plum puree.
Finely chop the greens.
Peel the garlic.
If there are nuts, fry them in a dry frying pan.
Crush the nuts in a mortar.
We mix tomatoes, onions, plums. Cook for 40 minutes over low heat. After the indicated time, add salt, sugar, peppercorns, lavrushka and rice (if you add). After another 20 minutes – garlic, passed through a press, chopped herbs, nuts (if any). We boil the preparation for the winter "Kharcho" for 15 minutes, add vinegar.

We lay out the kharcho hot for the winter on sterilized jars and roll up with boiled lids. Turn the cans over, wrap them until they cool.
Bon Appetit!
Also Like
Comments for "Kharcho for the Winter"