Mackerel Baked with Bacon
by Editorial Staff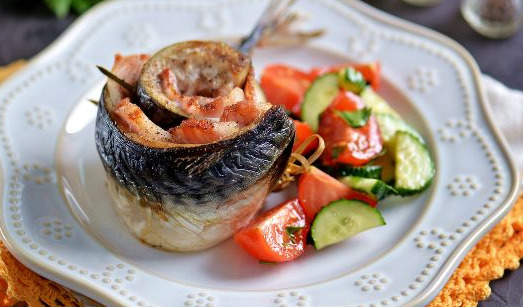 Very easy to prepare, and incredibly tasty and beautiful dish of mackerel, baked in the form of a roll with bacon.
Servings: 2
Ingredients
Mackerel (fresh frozen) – 1 pc.
Bacon – 80 g
Salt to taste
Ground black pepper – to taste
Olive oil – 1 teaspoon
Directions
Cut off the head of the frozen mackerel, remove the entrails, peel the black film from the fish.
Cut the mackerel carcass along the ridge, but not completely. Remove the ridge carefully.
Now let the fish thaw, salt, and pepper it.
Slice the bacon thinly. Spoon the bacon slices over the fish fillet halves.
Now roll one half of the mackerel and bacon into a roll from head to tail, and then wrap that roll in the other half of the fish fillet.
The entire fish loaf must be secured with a wooden or bamboo skewer, otherwise, it will not hold.
Lightly grease a baking dish with olive oil, place the mackerel and bacon roll in the dish, and place in the preheated oven. Bake the mackerel in the oven at 190 degrees without convection for 30 minutes.
Enjoy your meal!
Also Like
Comments for "Mackerel Baked with Bacon"