Marshmallow
by Editorial Staff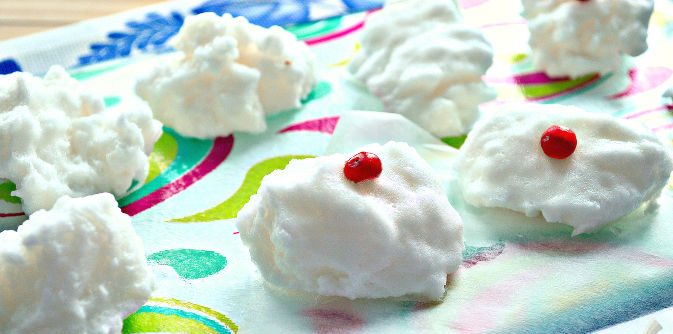 The recipe is for those with a sweet tooth who love marshmallows. Marshmallow can be prepared independently, at home, from the simplest set of products. The taste of homemade marshmallows is in no way inferior to store-bought.
Ingredients
Sugar – 4 tbsp
Gelatin – 2 tbsp
Citric acid – 1 teaspoon
Soda – 0.5 teaspoon
Directions
We prepare the necessary ingredients for homemade marshmallows. We also need water. So, fill the declared portion of gelatin with 100 ml of water (you need to use water from a kettle, naturally cold). We wait 25 minutes, then we continue.
We transfer the entire norm of granulated sugar into a saucepan. Fill it with a glass of water. We are waiting for the sugar to completely dissolve, and then the water boils. Stir while doing this.
Boil sweet water for about three minutes, and then add gelatin. Remove the pan from the heat. The gelatin should completely dissolve in the hot sweet water.
We arm ourselves with a mixer. Beat the warm mass as follows: first for five minutes, then rest for 5 minutes, then beat again for five minutes.
Add soda and citric acid. We continue to beat for another 10 minutes but by hand. Let the resulting mass stand for about 15 minutes.
Then we put it on a glass board or a plastic tray. The surface must be moistened with water. We spread the mass with a teaspoon (about 25 pieces are obtained). We are waiting for the mass to grab.
You can put the marshmallows in the refrigerator for speed, but it is advisable that the marshmallows sit at room temperature.
Enjoy!
Also Like
Comments for "Marshmallow"