Mushroom Pate with Cream Cheese
by Editorial Staff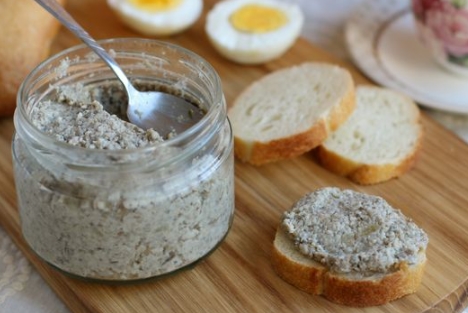 Pates are a very good snack and make delicious and nutritious sandwiches for breakfast or snacks. One of these pate is mushroom pate.
Servings: 4
Cook: 2 hours 40 mins
Ingredients
Fresh oyster mushrooms – 300 g
Dried porcini mushrooms – 1 tbsp
Bulb onions – 1 pc.
Garlic – 1 clove
Cognac – 20 ml
Vegetable oil – 20 g
Cream cheese – 1 tbsp
Salt to taste
Ground black pepper – to taste
Directions
We will prepare all the products according to the list. For mushroom pate, you can take fresh oyster mushrooms or champignons, I also highly recommend adding a little dried porcini mushrooms for more flavor.

Soak dried porcini mushrooms in water for 2 hours. This can be done in advance. (If you use fresh or frozen porcini mushrooms, skip this step.)

When the mushrooms are swollen, cut them into pieces and boil for 15 minutes.
In the meantime, the mushrooms are boiled, finely chop the onion and a chive.
Then we will cut the fresh mushrooms into random pieces. I used oyster mushrooms.
Fry the onion and garlic in vegetable oil until soft.
Then add fresh mushrooms to the pan and continue to fry, stirring occasionally.
After 2-3 minutes, add the boiled porcini mushrooms to the pan. The broth can be drained into a jar and saved.
Then pour in the cognac and let it evaporate. At the end of frying, salt, and pepper the mushrooms.
Let the mushrooms cool slightly and transfer them to a blender. Add a spoonful of creamy curd cheese there.
Grind the mass in a blender until combined. Mushroom pate with cream cheese is ready. Let's put it in a jar.

Your homemade sandwiches with such a mushroom pate will be appreciated, try it!
Enjoy your meal!
Also Like
Comments for "Mushroom Pate with Cream Cheese"