Salad with Chocolate and Whipped Cream
by Editorial Staff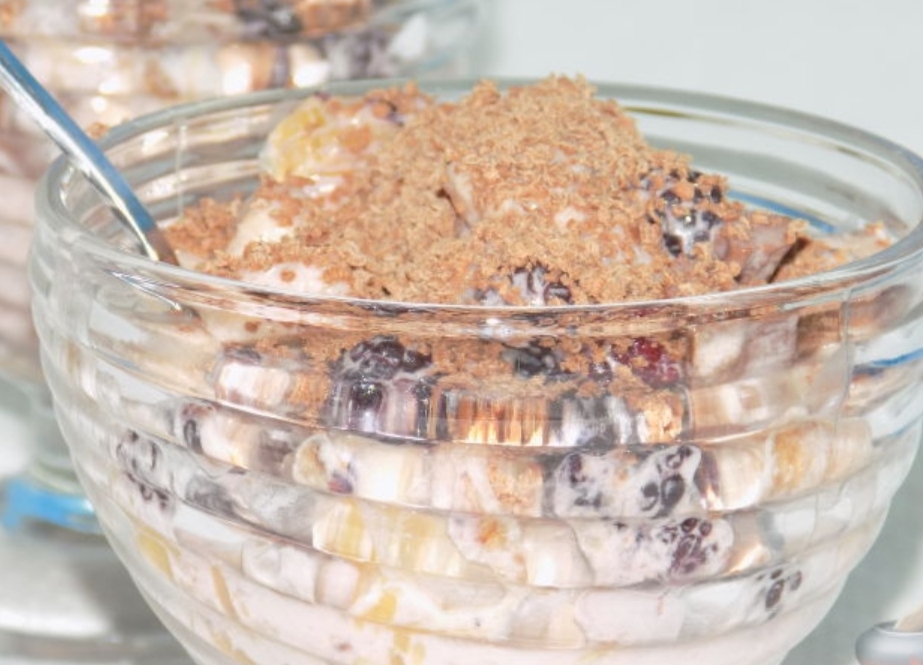 This fruit salad will certainly be a godsend for those with a sweet tooth. Chopped fruit mixed with chunks of chocolate and dressed in whipped cream – what could be more delicious!
Ingredients
Banana – 2 pcs.
Apple – 2 pcs.
Blackberries – 200 g
Orange (large) – 1 pc.
Chocolate (any) – 100 g
Sugar – 1 tablespoon
Fat cream – 200 ml
Direction
Wash all the fruits. Let's start with bananas. Let's peel them off. Cut into not very large pieces.
Place in a salad bowl. We put the blackberry in there. Mix a little.

The queue for the orange: also peel it. Divide into slices and (if possible) remove the skin from them. Cut each slice into three to four parts.
A place with chopped bananas and blackberries.
Remove the top layer from the apples. It is best to take apples last, as peeled apples quickly darken. Chop into small cubes.
Put it with all the fruits and mix very gently.

The chocolate should be slightly soft because in this case, it is very easy to cut with a knife.
To do this, it is best to keep it outside the refrigerator for an hour. Cut the chocolate bar into small cubes, but not all.
Leave quite a bit of chocolate – at the very end of cooking it will be needed for decoration. Let's add chocolate to the fruit.
Cream, unlike the chocolate bar, must be very chilled. Therefore, after taking them out of the refrigerator (in which they stayed for at least an hour), we will immediately start whipping. This is done at low mixer speeds. Sugar is added at the very end.

Season the fruits mixed with pieces of chocolate with whipped cream with sugar. Set the bowl aside for a while (it will take no more than fifteen minutes). During this time, blackberries and fruits will let juice a little. Then mix everything carefully.

Arrange fruit salad with chocolate pieces and whipped cream in bowls or salad bowls. It remains only to sprinkle lightly on top with grated chocolate for beauty.
Bon Appetit.
Also Like
Comments for "Salad with Chocolate and Whipped Cream"