Scrambled Eggs with Tomatoes and Bell Pepper
by Editorial Staff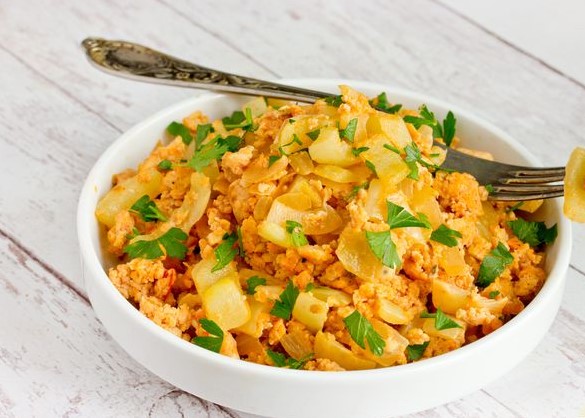 A simplified version of the traditional Turkish breakfast "Menemen" – an omelet with tomatoes, peppers, and onions. Even a novice cook can cook such original scrambled eggs with tomatoes because the cooking process is elementary, all the ingredients are simple and quite affordable!
Cook: 15 mins
Servings: 1
Ingredients
Eggs – 3 pcs.
Bulgarian pepper – 180 g (2 pcs.)
Tomatoes – 180 g (2-3 pcs.)
Onions – 80 g (1/2 pc.)
Salt to taste
Ground black pepper – to taste
Vegetable oil (for frying) – 30 ml (2 tablespoons)
For the filling (optional):
Fresh parsley – 3-4 sprigs
Directions
Peel the onion and cut it into cubes. Heat vegetable oil in a frying pan and, stirring occasionally, fry the onion over medium heat for about 2-3 minutes, until transparent.
Sweet peppers are free of internal septa and seeds. Cut the peppers into strips, sticks, or cubes.
Add the peppers to the onions in a skillet and, stirring occasionally, sauté the vegetables for about 3 minutes, until the peppers are soft.
Cut the tomatoes into halves and grate on a fine grater so that you get tomato puree, and the skin remains in your hand. Add the tomato puree to the fried vegetables. At this stage, if you like spicy food, you can add chopped hot peppers (I did not add).
Continue to fry the vegetable mixture for another 3 minutes over high heat so that the liquid evaporates slightly. Break eggs into a bowl, add salt and black pepper. Beat the eggs lightly with a fork.

Pour the egg mixture over the fried vegetables. Continuously stirring the omelet immediately after the vegetables are filled with the egg mixture, bring the dish to readiness – the eggs should look like large flakes and are fully cooked.

Unusual scrambled eggs with tomatoes and peppers are ready. Transfer it to a plate and serve, sprinkle with chopped parsley if desired. Bon Appetit!
Also Like
Comments for "Scrambled Eggs with Tomatoes and Bell Pepper"