Seafood Stew with Beans
by Editorial Staff
This stew is made with calamari and shrimp and fava beans, popular in Mediterranean cuisine.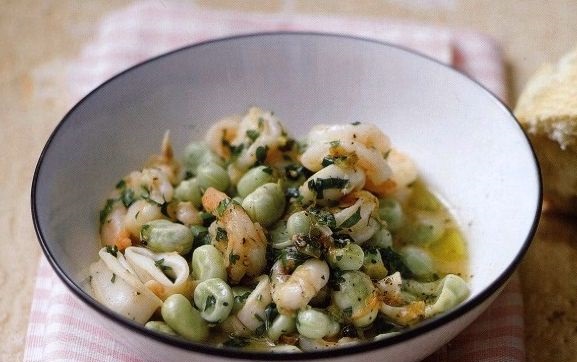 Cook: 20 mins
Servings: 6
Ingredients
Shrimp (peeled) – 230 g
Small squids (cut into rings) – 450 g
Fava beans (garden or horse beans) small (frozen) – 1.5 cups
Olive oil – 2 tbsp
Green onions (chopped) – 4 pcs.
Garlic (finely chopped) – 2 cloves
Dry white wine – 0.5 cups
Salt to taste
Ground black pepper – to taste
Directions
In a large skillet over medium-high heat, heat the olive oil, pour the green onions into the skillet, and cook, stirring occasionally, for about 4-5 minutes, until soft.
Put the garlic in the pan and cook for another 30 seconds. Add the squid rings to the pan and cook over high heat, stirring for about 2 minutes, until golden brown.
Add wine to the pan, bring to a boil. Place the beans in boiling wine, reduce heat, cover the pan and cook the squid for 5-8 minutes (if the beans are fresh), and 4-5 minutes (if the beans are frozen).
Place the shrimp in a frying pan, cover, and cook for 2-3 minutes, until the shrimps are pink. Add parsley, salt, and pepper to the pan. Serve the seafood stew immediately.
Enjoy your meal!
Also Like
Comments for "Seafood Stew with Beans"