Turkey Kebab Marinated with Soy Sauce
by Editorial Staff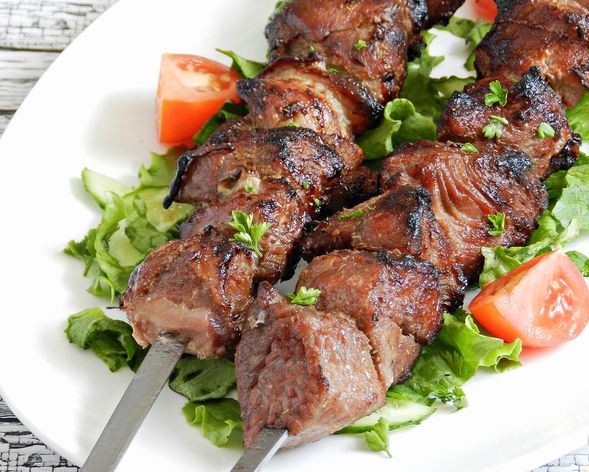 Turkey meat is ideal for a barbecue. Thanks to the marinade of soy sauce, onions and spices, the turkey kebab are very tender, juicy and incredibly tasty.
Ingredients
Turkey (drumstick fillet) – 1 kg
Onions – 250 g
Soy sauce – 4 tbsp
Olive oil – 2 tbsp
Ground black pepper – 0.3 teaspoon
Ground coriander – 0.3 teaspoon
Ground Zira – 0.5 teaspoon
Dried garlic – 0.5 teaspoon
Fresh greens – to taste
Fresh vegetables – to taste
Directions
Prepare all required ingredients.

Cut the onions into half rings.
Wash the turkey meat, remove the films, dry with paper towels. Cut the meat into medium-sized pieces, about 5×5 cm. Place the meat in a bowl.
Add chopped onion to the meat, add spices (pepper, coriander, cumin, dried garlic).
Pour in olive oil and soy sauce.

Mix well so that each piece of meat is covered with marinade. Cover the bowl with a lid and let the turkey marinate in the refrigerator for 2 hours.
Then string the meat on skewers. Stringing meat on skewers is not tight, but also without gaps so that when frying it does not dry out. No bow needed.
Light a fire in the grill and wait for the wood to burn to coals.
Arrange the skewers with turkey meat on the grill.

Fry the barbecue over hot coals, periodically rotating the skewers so that the meat does not burn and brown evenly. The turkey kebab will be ready in about 20 minutes.
Serve hot barbecue with fresh vegetables and herbs.
Bon Appetit!
Also Like
Comments for "Turkey Kebab Marinated with Soy Sauce"