Despite the variety of modern food processors, blenders remain indispensable helpers in any kitchen when it comes to chopping and mixing food. The challenge is to find the right device. To do this, you need to know about the main characteristics of different types of such kitchen appliances. Taking into account customer reviews, key paras, and price/quality ratio, we tried to collect for you a rating of the best blenders.
Top Blenders for Home by Editors' Picks
Classification
First, we propose to understand the classification of devices:
By design type - there are submersible (small models with one grinder), stationary (a block with controls and a large bowl located on top), and universal (combine the functions of several devices);
By the number of nozzles - the scope of the device depends on this para. As a rule, budget submersible models have an attachment for chopping and mixing, as well as a whisk for whipping products. Stationary ones can be equipped with one or more whisks, a bowl-grinder, and other attachments for making cream soups, cocktails, ice picks, etc. Combination models are distinguished by the presence of additional functions of other devices, including coffee grinders, soup cookers, and even meat grinders.
How Do I Pick a Good Blender?
We offer you to figure out how to choose a blender for your home, what you should pay attention to so as not to regret buying:
Blender Type - Submersible models are hand-operated and are designed for basic tasks including chopping, mixing, and whipping foods. Stationary counterparts weigh more but do not require effort. Such devices are equipped with a large number of attachments, therefore, have a wider scope of application. Combination models are stationary blenders equipped with additional functions. That is, this device allows you to replace other kitchen appliances;
Power - here you need to build on what functions the device should perform. It should be borne in mind that 500 watts are enough for immersion blenders. For stationary from 600 to 1200 W. The most powerful models support ice splitting, chopping of solid foods, including carrots, etc. The power of the combined models can reach 2000 W;
Operating modes - here it is necessary to proceed from the scope of application, the number of nozzles, and the power of the device. The number of speeds can vary from 1 to 30. It should be borne in mind that at low speeds, any blender copes better with hard and viscous ingredients if you want to make delicate mayonnaise or pate. Turbo mode is better for coarse crushing, ice picking. An important advantage is a support for the pulse mode;
Materials - handles and body can be made of plastic or metal. The first option is less durable, but provides for easier care since it is more difficult to leave fingerprints;
Nozzles - the final cost of this or that blender largely depends on this para. As already mentioned, submersible models have fewer accessories than stationary ones, and even more so combined ones.
Consider the most popular and useful attachments:
The blender attachment is a basic accessory for chopping and mixing foods. Comes with any model;
whisk - used to grind ingredients in a bowl;
chopping bowl - an accessory for stationary blenders, equipped with multiple blades for cooking minced meat. It can have one or more universal knives, a disc for cutting soft foods, etc. The volume of the bowl can vary from 0.35 to 3 liters for domestic use;
a vacuum pump - an element of combination blenders that allows you to pump out air, so that food can be stored longer;
highly specialized attachments - for mashed potatoes, smoothies, pasta. Not all of these accessories are effective in practice. Be careful.
Best Hand Blenders
We are talking about simple, budget models, the advantage of which is compactness and lightweight. The design consists of a handle to which a chopping knife is attached. Weight rarely exceeds 1 kilogram. The downside is that such devices are not suitable for handling a large volume of products. In this case, you need to constantly hold the bowl so that the ingredients do not splatter around the room. The plus is that such blenders are easily cleaned of food debris. Choosing hand blenders, we focused on optimal power, quality of the body, attachments, and the level of assembly.
Bosch MSM 66130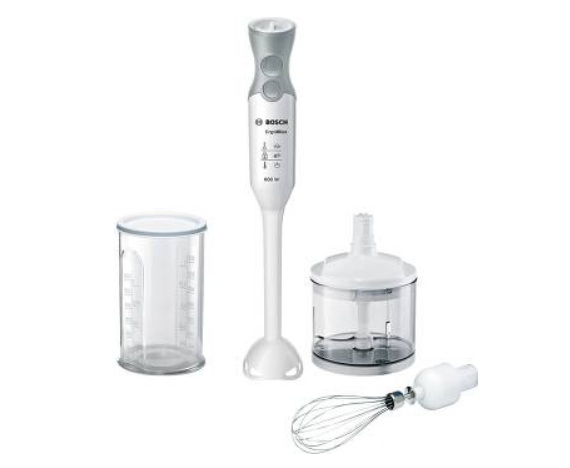 The top blenders are opened by the model from the German manufacturer - Bosch MSM 66130, whose power is 600 W. This is quite enough to meet the needs of ordinary buyers. In addition, 12 modes are installed, smooth speed control is provided, there is a pulse mode. The set with the device includes a measuring cup, a blender leg, as well as several whisks for whipping products. Thanks to the long network cable, you will not have any difficulties connecting the device to an outlet remote from the location of the device. The legs of this model are made of durable metal.
Pros:
body strength;
good attachments;
reliable manufacturer;
12 operating modes.
Cons:
Moulinex DD642132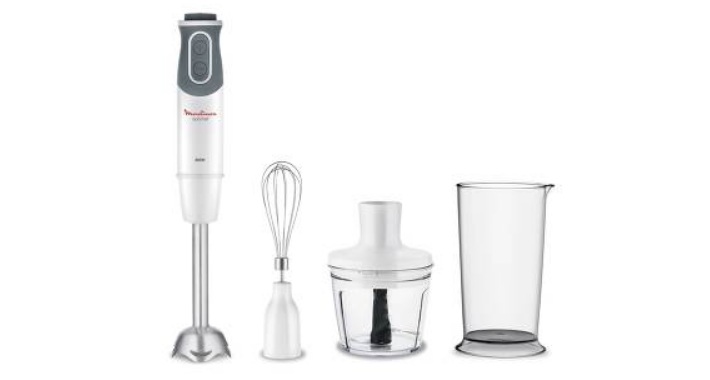 An excellent result, despite the democratic price tag, is guaranteed by another good and inexpensive Moulinex DD642132 blender. The low cost did not affect the performance of the device. The machine has 800 watts of power, which is more than enough power for a hand blender. At the same time, the manufacturer took care of the presence of 20-speed modes, including pulse. The advantages of this device include ease of use, stylish design, and effective splash protection. The kit includes a grinder with a volume of 500 milliliters. This should be enough for slicing different foods. There is a whisk for beating.
Pros:
low price;
powerful motor;
20 operating modes;
stylish design.
Cons:
for such a price they are not.
Bosch MSM 87165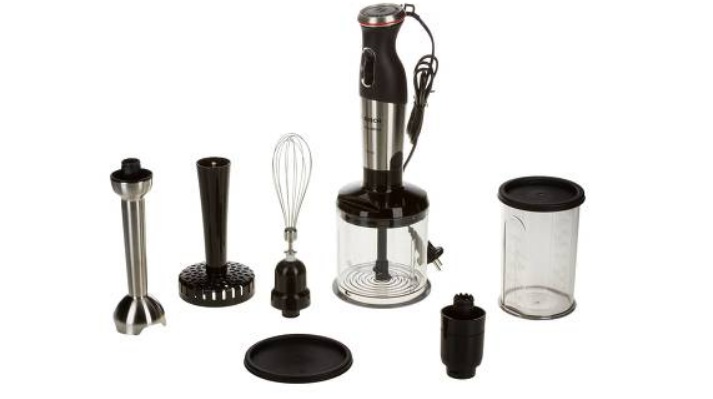 Another reliable hand blender for home from a German manufacturer that attracts with long service life and ease of use. This model has a more powerful 750 W motor. Based on the manufacturer's words, every detail in addition to the body can be washed in the PMM. At the same time, the device received an improved, more comfortable handle with an ergonomic shape and anti-slip coating. Judging by the reviews, it fits comfortably in the hand. The set includes 4 different attachments for preparing a wide range of dishes. The motor has received additional protection, attracts with a low noise level during operation. Vibrations are hardly felt, and hands do not get tired over time.
Pros:
thoughtful design;
increased power;
security level;
vibrations are not felt;
there are 4 nozzles.
Cons:
Braun MQ 5045 WH Aperitive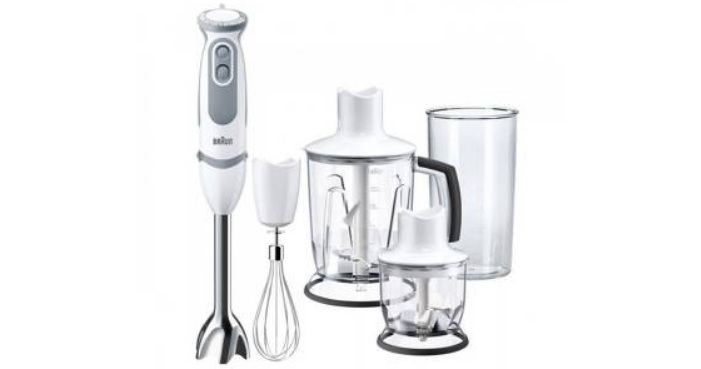 Among all the variety of good hand blenders, the Braun MQ 5045 WH Aperitive model is compact in size and an extensive set of functionality when compared with analogs. This device has a rather powerful 750 W motor and has a well-thought-out design. In the kit, you can find a measuring bowl, a small chopper for 350 grams, a bowl for 1.25 liters, a sharp knife. In total, 21 speeds are implemented, and there is a turbo mode. This indicates the possibility of preparing a variety of dishes. At the same time, the rubberized handle guarantees additional convenience, as it prevents slipping.
Pros:
excellent equipment;
reliable removable parts;
many modes;
high power.
Cons:
Philips HR2655 Viva Collection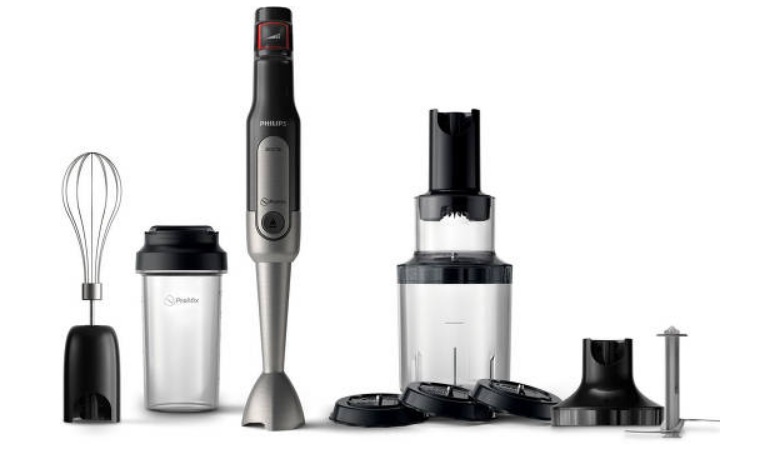 The best hand blender is the Philips HR2655 Viva Collection, equipped with a 0.5-liter plastic travel cup. The body of this device is made of high-strength plastic. There are a quality leg and a sharp knife that does not dull over time. The power of this unit is 800 W, which is enough for quick mixing and grinding of various ingredients. At the same time, special attention should be paid to the SpeedTouch technology, which provides for smooth speed control. There is a turbo mode for splash-free cooking at high speed. The advantages include 3 attachments for cutting vegetables. The accessories are dishwasher safe.
Pros:
worthy attachments;
SpeedTouch;
800 watts of power;
great knife.
Cons:
Best Stationary Blenders for Home
Stationary blenders differ from their budget counterparts in larger sizes and a wide range of applications. They are designed as a block with a handle and a control system. The ingredient bowl is above the platform. Such models do not need to be held in hands, the user's work is limited to placing products, connecting a suitable nozzle, and turning on the required mode. The downside is that such units are more difficult to wash. Especially if multiple shredders are installed. In this segment, as you understand, there are more expensive models equipped with a large number of attachments. They can be used to grind the coffee, crush ice and make delicious cocktails.
Xiaomi Pinlo Little Monster Cooking Machine White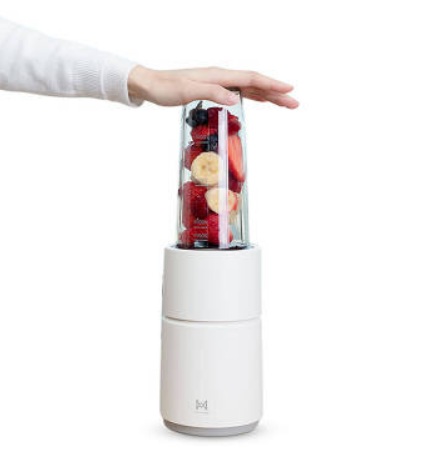 In the list of stationary models, the budget blender from Xiaomi - Pinlo Little Monster Cooking looks good. Despite the small power, this device is really efficient and productive. During operation, the knife creates a kind of swirl, as a result of which the products will be cut much faster and more efficiently. The power of the device is 500 W, and the volume of the shaker is 500 milliliters. The downside is that only one speed is implemented. Please note that the power cable is not too long, so you need to think in advance about the location of the device in the kitchen. Judging by the reviews, there is enough power to deal with solid products without any problems: it chops pieces of coconut in a matter of seconds.
Pros:
low price;
good knife;
functionality;
durable body.
Cons:
Midea MC-BL1002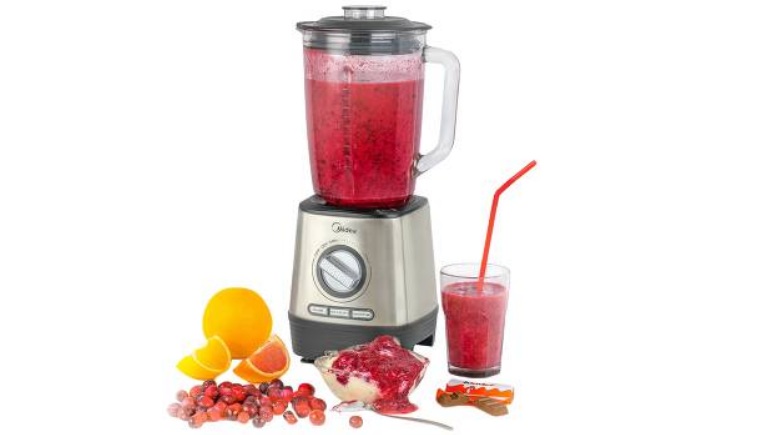 If you are going to buy an inexpensive stationary blender, we recommend paying attention to the Midea MC-BL1002 model, which has a power of 1800 watts. The volume of the main bowl is 1.5 liters. Among the advantages of this budget, the solution is the pulse mode, smooth speed control. There are preset programs for the comfortable preparation of a number of dishes, including smoothies. Aside from the good main bowl, users have commented on the quality of the attachments. It should be added that the main container is made of glass. Therefore, you should be careful. There is a compartment for hassle-free cable storage. Of the shortcomings, users note only a lot of weight.
Pros:
pulse mode;
smooth adjustment;
quality of nozzles;
main bowl.
Cons:
Panasonic MX-KM5060STQ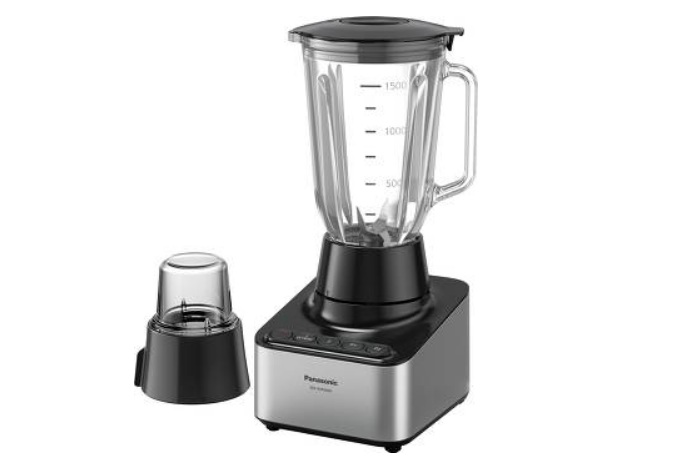 There is no doubt about the reliability of Panasonic household appliances for a very long time. This is confirmed by the presence of the MX-KM5060STQ model in our rating of stationary blenders. The optimal solution for a small family of 2-3 people due to the price/quality ratio, convenience, and durability. The model operates in two-speed modes with a power of 800 watts. There are several preinstalled programs including ice pick. Self-cleaning is one of the advantages. The set includes a coffee grinder, main bowl. It is made of high-quality glass. The dimensions of the device are 18.8 by 21 by 41.6 centimeters. It should be added that the knives are very sharp, there is a risk of cutting yourself if not cleaned carefully.
Pros:
installed programs;
optimal power;
price-quality ratio;
lifetime.
Cons:
RAWMID Dream Samurai BDS-04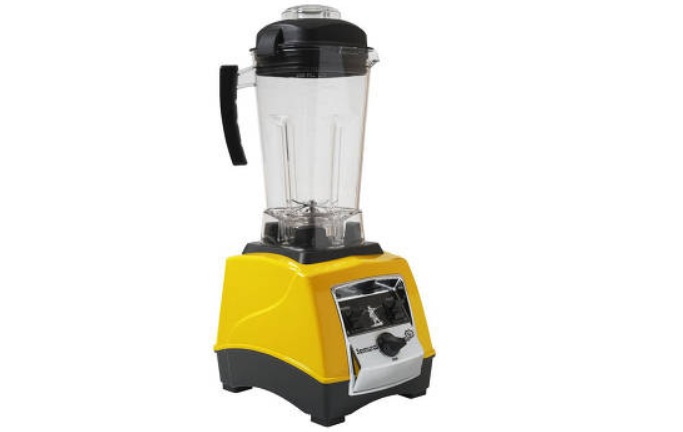 A professional stationary blender RAWMID Dream Samurai BDS-04 can be very useful for a large family. Not the nicest price tag, of course, but this machine is equipped with a powerful 2900W power plant capable of handling even tough ingredients, including frozen foods and nuts. The high productivity is also due to the 8-blade Japanese steel knife. For 50,000 revolutions, it turns any ingredients "into dust", leaving no seeds or peels. In total, 7 operating modes are implemented, including pulse. The kit includes a pusher, a jug, and attachments. The warranty period is 3 years.
Pros:
high power;
excellent Japanese knife;
good equipment;
the warranty period is 3 years.
Cons:
Dauken MX800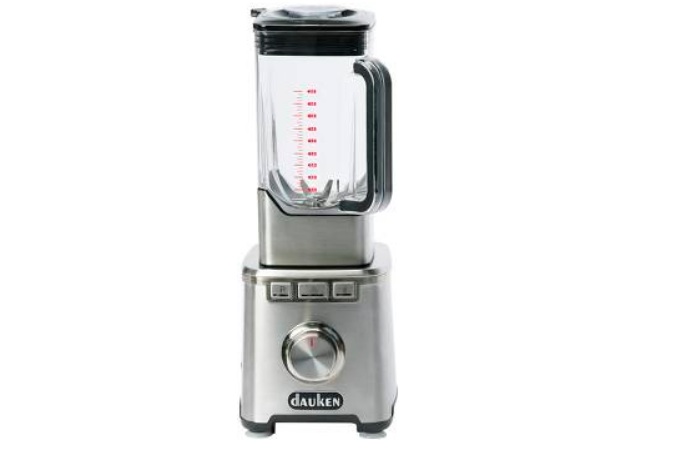 In terms of price/quality ratio, one of the best stationary blenders is the Dauken MX800. This is a stylish device with a power of 2000 watts. In addition to the fact that the blender fits perfectly into the interior design of any kitchen, the advantages include a high-quality knife made of stainless steel, which includes 6 durable blades at once. The set includes a convenient bowl with a volume of 2 liters. The container is made of Tritan. It should be said that the design provides for the addition of food using a special hole in the lid, which can be closed with a plastic stopper without any problems. The convenience of electronic control and power control is not to be found fault with. Judging by the feedback from users, the device fully justifies its price.
Pros:
simple control;
durable motor;
quality of blades;
optimal capacity.
Cons:
Better Combination Blenders
Such devices are more often used for commercial purposes, as they have a large number of functions. They can perform the tasks of a stationary blender and mixer, coffee grinder, meat grinder, and so on. For obvious reasons, when collecting models of this type, we took into account user feedback. The fact is that many modern aggregates do not meet the expectations of users, as they personify marketing gimmicks. A really useful element is the vacuum pump, which allows you to evacuate air from the container, thereby preserving the food for a longer time. At the same time, the puree nozzle is not always useful, and you need to pay extra for it. Thus, when choosing this type of equipment, you must proceed from what tasks you set for the device.
Braun JB 7192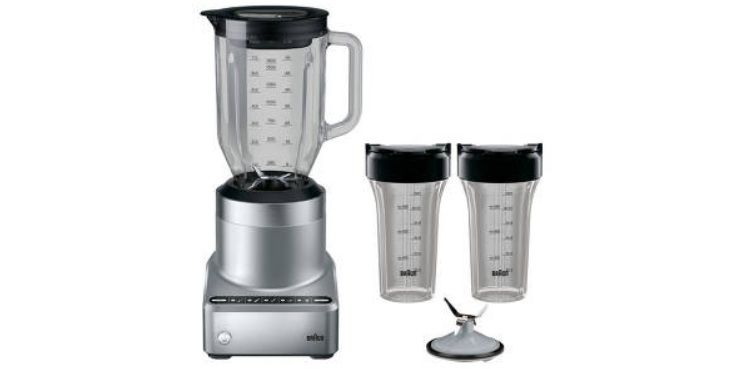 The JB 7192 is already the seventh generation of powerful combination blenders with a wide range of applications. As usual, Braun has worked on the bugs and upgraded their machine even better. The power of the power plant is 1000 W. There is a removable bowl for 1.6 liters, which is enough for a large family. It should be noted that the main container is made of thermal glass. The knives of this device are made of stainless steel. There is an LED panel as well as 5 automatic functions. Provides ice pick, pulse mode, and more. The advantages include the SmoothCrush system, PowerAssist technology, and removable 0.35-liter bowls.
Pros:
high power;
5 automatic programs;
removable bowl;
SmoothCrush system.
Cons:
KING MIX KM-X5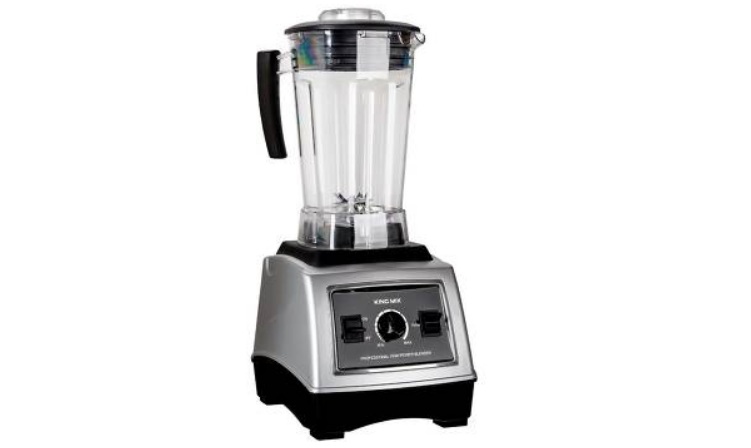 This device has an advanced design of the knife block, which includes Taiwanese oil seals and NSK (Japan) bearings. If you do not know which blender to buy for a large family, we recommend that you pay attention to the KING MIX KM-X5 model. This device combines a huge number of advantages over analogs. The design consists of 8 knives, thanks to which you can chop meat, any fruits, and vegetables without any problems. The maximum power is 2200 W. It is also difficult to find fault with the convenience of control - mechanical regulators are installed, which even an inexperienced consumer can handle. The downside is that the pulse mode is not perfect.
Pros:
build quality;
expensive parts;
high power;
simple control.
Cons:
Moulinex LM936E10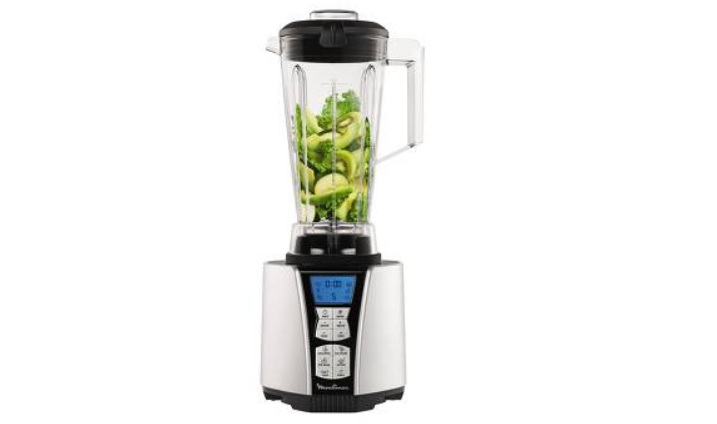 As you already understood, Moulinex regularly pleases with decent blender models. This is confirmed by the LM936E10. This device supports self-cleaning, several modes for quick preparation of smoothies, for cracking ice, cream soups, and more. A total of 10 operating modes are implemented. The power of the device is 1500 W. The main bowl holds up to 10 liters of liquids. Based on comments from customers who have already appreciated the effectiveness of this device, the blender does an excellent job of cracking nuts and other hard foods.
Pros:
high power;
10 operating modes;
volumetric bowl;
self-cleaning.
Cons:
L'EQUIP BS5 Cube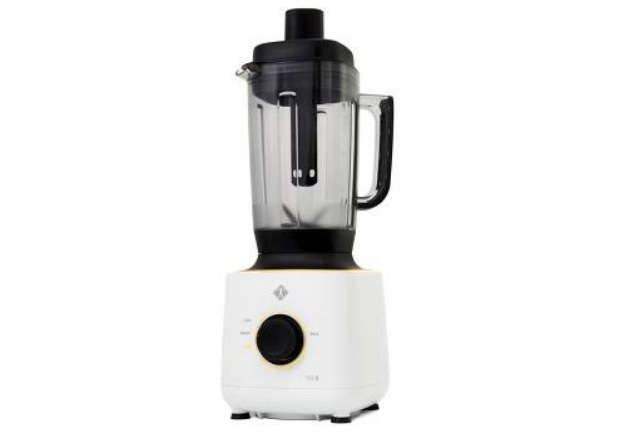 A fairly efficient and durable device was presented to the public by another little-known company L'EQUIP. The BS5 Cube professional blender does an excellent job of handling large quantities of food, reducing users' efforts to a laugh. All you need to do is press a button, and the appliance will cope with chopping ice, smoothies, cocktails, mashed potatoes, and even nuts. Particularly noteworthy are the patented 3D-blades, which guarantee excellent quality of work for a long time. It is worth highlighting the intuitive menu, stylish design, and durable bowl. The container is not afraid of minor mechanical damage and falling from a height. The parts are made of titanium.
Pros:
expensive parts;
shockproof bowl;
advanced knives;
bright appearance.
Cons:
Oberhof Wirbel E42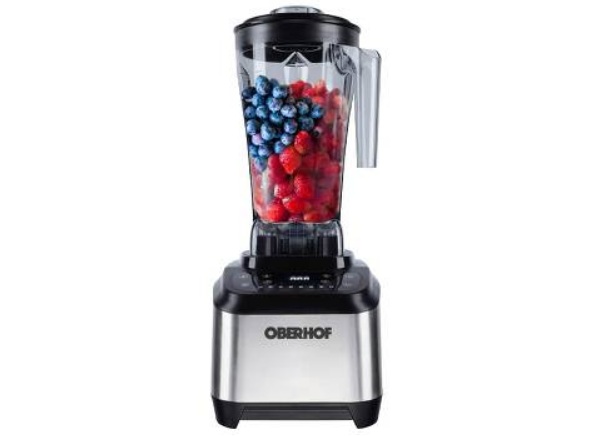 The best combination blender is the Oberhof Wirbel E42 with a 2-liter bowl. The power of this device is 2200 W, which is enough for 45 thousand revolutions. There is smooth speed control, there is a pulse mode for fast processing of solid ingredients. The convenience of 6 programs deserves special attention, including smoothies, ice picks, and others. The main container is made of impact-resistant BPA-Free Tritan material. At the same time, the model has a solid body, and the knives are made of aircraft steel. There is no doubt about the durability of this device. The set includes a knife with 6 blades, a tamper, and a spatula.
Pros:
optimal power;
functional model;
excellent build;
convenient control.
Cons:
Also Like