Ajapsandali on Chvishtari
by Editorial Staff
Caucasian version of eggplant sauté (ajapsandali) on cornflour cakes with cheese (chvishtari). This recipe just charmed me with its fabulous name. Then it turned out that the taste of the dish fully meets the most fabulous expectations. And it turned out to be quite simple to cook it.
Summary
| | |
| --- | --- |
| Prep Time | 15 mins |
| Cook Time | 30 mins |
| Total Time | 45 mins |
| Course | Side Dishes |
| Cuisine | Georgian |
| Servings (Default: 4) | |
Ingredients
For ajapsandali:
Eggplant - 1 kg
Sweet pepper - 750 g
Onions - 200 g
Tomatoes - 250 g
Tomato paste - 50 g
Fresh chili pepper (optional) - 0.5 pods
Garlic - 1-3 cloves (to taste)
Salt to taste
Vegetable oil (preferably corn oil) - up to 100 ml
Adjika Abkhazian - 10 g Fresh basil, cilantro (or dill, parsley) - 80-100 g
For chvishtari:
Corn flour - 200 g
Chicken eggs - 2 pcs.
Sour cream - 200 g
Semolina - 100 g
Suluguni cheese - 300-350 g
Baking powder for dough - 10 g
Salt to taste (taking into account the salinity of the cheese !!!)
Vegetable oil (preferably corn oil) - for frying cakes
Wheat flour - for rolling cakes when cutting dough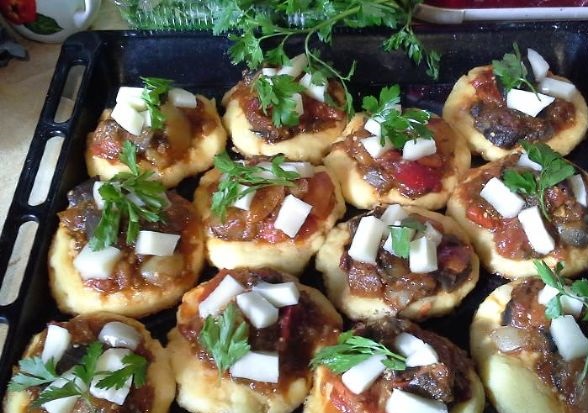 Directions
First, knead the dough for chvishtari flat cakes. Put corn flour, eggs, sour cream, semolina, baking powder, salt to taste in a deep bowl. Mix everything well.
Grate cheese on a fine grater, add to the dough. WARNING (!!!): Suluguni cheese is usually quite salty on its own. The salinity of the cheese must be taken into account when adding salt.
Knead the dough well. It will still stick to your hands - that's okay. Put the finished dough in the refrigerator and start preparing ajapsandali.
Cut the eggplants and peppers into large cubes. Heat in a deep saucepan or frying pan 2-3 tbsp vegetable oil and fry the peppers and eggplants for about 7 minutes to "gilded".
Cut the onion into thin half-rings, tomatoes into small cubes. We will heat another 2-3 tbsp butter in another saucepan or skillet. First, sauté the onion for three minutes, then add the tomatoes and simmer everything for 5 minutes.
Combine vegetables from two saucepans together, add tomato paste and simmer for another 5 minutes.
Now put in the vegetables finely chopped herbs and garlic, adjika, and salt to taste. Simmer for another 10 minutes over low heat and remove from heat.
From the dough we make cakes up to 1.5 cm thick and 7-10 cm in diameter. Dip them in wheat flour and fry in a pan with vegetable oil on only one side.
Transfer the tortillas to a greased baking sheet, fried side down. For each we put 2 tbsp ajapsandali and put in an oven preheated to 180 degrees for 10 minutes.
Put pieces of cheese on hot tortillas and sprinkle with chopped herbs.
BossKitchen's Take on Ajapsandali on Chvishtari
We eat slightly cooled, but certainly still hot.
For me, this dish is best washed down with tomato juice with the addition of a drop of soy sauce.
Well, another tip: remember the recipe for chvishtari flat cakes. If they are fried on both sides, this is a completely independent dish for tea, or for an afternoon snack. But before eating, they should be warmed up.
Enjoy your meal!
Also Like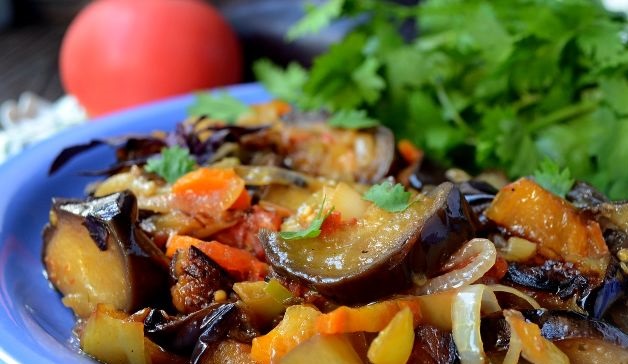 Ajapsandali is a very tasty, juicy, and hearty, but nevertheless absolutely vegetable dish of traditional Georgian cuisine. Servings: 5 Ingredients Eggplant – 500 g Tomatoes – 350 g Bulgarian pepper – 250 g Carrots – 250 g Onions – 120 g Garlic – 2 cloves...
Comments for "Ajapsandali on Chvishtari"