Khashlama
by Editorial Staff
Lamb, tomatoes, bell peppers, and onions, cut into large pieces and lined with layers, seasoned with garlic, cilantro, parsley, and dill. Three hours of simmering on low heat – and the result will exceed all expectations! Real khashlama is a dish that you will definitely want to repeat.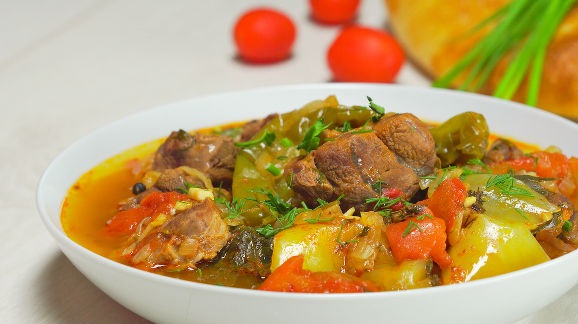 Cook: 3 hours
Servings: 6
Ingredients
Lamb – 1 kg
Tomatoes – 800 g
Sweet pepper – 500 g
Onions – 500 g
Garlic – 5 cloves
Fresh parsley – 20 g
Fresh cilantro – 30 g
Fresh dill – 20 g
Chili peppers – 1 pc.
Bay leaf – 4 pcs.
Black peppercorns – 10 pcs.
Ground sweet paprika – 1.5 tbsp
Ground black pepper – 1/2 teaspoon.
Salt – 1.5 tbsp
Directions
Pour boiling water over the tomatoes for 10 minutes.
Remove the skin from the tomatoes and cut into large slices.
Cut sweet peppers into large pieces.
Cut the onion into half rings.
Finely chop the garlic.
Chop parsley, cilantro, dill.
Put a layer of tomatoes in a saucepan with a thick bottom so that they completely cover the bottom, and sprinkle them with a little salt (1 teaspoon). Then put a third of the onion and half of the meat, cut into small pieces.

Put half of the sweet pepper. Sprinkle on top again with salt (1 teaspoon.), Add peppercorns, capsicum, paprika (1 tablespoon. L.), Ground pepper (0.5 teaspoon.), And garlic.
Then repeat the layers: tomatoes, a third of onions, meat. Season with salt (1 teaspoon), sprinkle with fresh herbs, add a bay leaf.
Finish the layout with slices of sweet pepper and onion. Sprinkle with garlic and the remaining spices – paprika and salt.

Cover the saucepan and simmer the meat and vegetables over low heat for 3 hours.
Sprinkle khashlama with fresh herbs before serving.
Enjoy your meal!
Also Like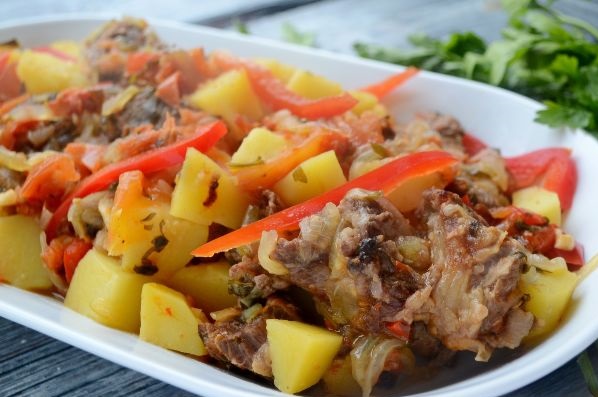 The khashlama recipe is perfect for most novice housewives. It is very simple to prepare khashlama, but the result is amazing. Khashlama can be in the form of the first or second course, in different variations. For example, khashlama with beer, beef and ...
Comments for "Khashlama"