Mango and Strawberry Smoothie
by Editorial Staff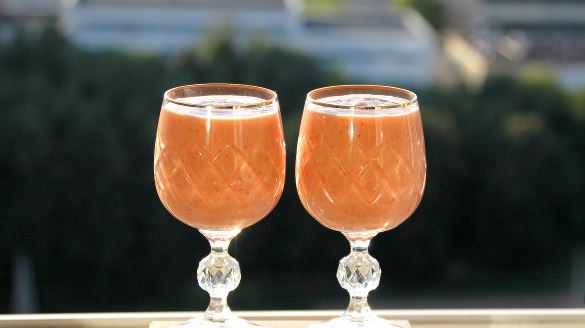 We are opening another vast and endless topic that has not been touched upon before – smoothies! 🙂 Smoothie is a drink, which consists of one solid merit: it is obscenely simple to prepare, extremely useful, divinely tasty, very affordable, has countless cooking variations, has the most delicate texture, and very satisfying. Today we are making a smoothie with mango, strawberry, and coconut milk.
Ingredients
Mango – 1 pc.
Strawberries (frozen) – 1 glass
Coconut milk (or any other) – 1 glass
Powdered sugar or honey – 2 tbsp
Vanillin – 1 teaspoon
Directions
We'll need a blender. We take one mango, peel it from the skin, peel the pulp from the bone, cut it not very finely, and put it in a blender bowl.
We also add a glass of strawberries there – either fresh or frozen. (If the strawberries are frozen, then the smoothie will immediately turn out ice.) Add two tablespoons of powdered sugar or honey there. (At this point, you really need to be guided by your taste. Initially, the recipe included only one tablespoon of sweetener, but it was not sweet for us, so we doubled the dose. :))
Add a teaspoon of vanillin and a glass of coconut milk. (Coconut milk can be replaced with any other, but it will be "not right.") It remains to whip until smooth – and that's it, you can taste the drink of the gods. 🙂 (You can freeze the smoothie and get gorgeous ice cream. 🙂 If you don't use an ice cream maker, stir every hour.)
Bon, Appetit and don't be afraid to experiment!
Also Like
Comments for "Mango and Strawberry Smoothie"