Pumpkin Soup with Chicken, Cauliflower and Cream Cheese
by Editorial Staff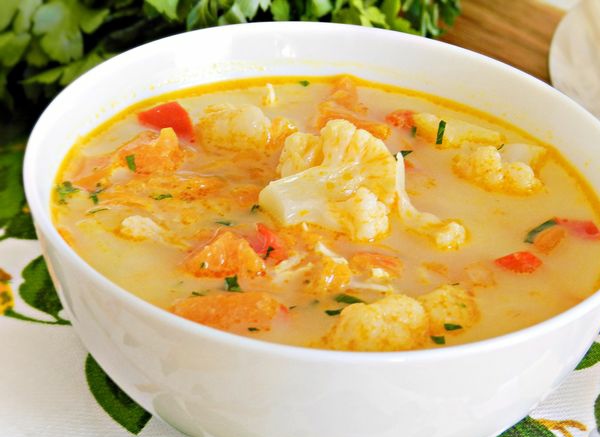 Pumpkin soup with chicken, cauliflower, bell peppers and cream cheese attracts with its bright colors and rich taste. This soup can be prepared with both meat and vegetable broth.
Ingredients
Chicken fillet – 280 g
Pumpkin – 250 g
Cauliflower – 150 g
Potatoes – 180 g
Bulgarian pepper – 100 g
Carrots – 80 g
Onions – 70 g
Cream cheese – 50 g
Garlic – 2 cloves
Fresh parsley – 2-3 sprigs
Salt to taste
Ground black pepper – to taste
Vegetable oil – for frying
Water – 1 l
Directions
Pour chicken fillet in a saucepan with 1 liter of water and bring to a boil. Remove the resulting foam, reduce heat and cook the broth for 30 minutes. At the end of cooking, add salt to the broth. Remove the finished chicken fillet from the broth and let it cool slightly.

Pepper the bell peppers and cut into small pieces. Cut the peeled onion into small cubes. Grate the peeled carrots on a medium grater. Peel the potatoes. Cut the pumpkin and potatoes into approximately equal medium-sized cubes. Disassemble the cauliflower into inflorescences.
Heat vegetable oil in a frying pan and fry the onion over medium heat until transparent, 5-7 minutes. Add salt and black pepper. Peel the garlic, chop finely. Add garlic to a skillet with onions and fry for 1 minute. Add carrots to the pan and fry for 3-4 minutes. Then add bell pepper and fry for 5 minutes.

Cut the cooled chicken meat into small pieces. Put potatoes, pumpkin and chicken in the broth. After boiling, reduce heat to low and cook for 10 minutes. Then add cauliflower and sauteed vegetables. Cook for another 5-7 minutes to soften the cabbage. Place the cream cheese in a saucepan. Stir well until the cheese is completely melted. Bring soup to a boil, but do not boil. Season with pepper and salt if necessary. Remove the pot of soup from the heat.
Finely chop the parsley. Before serving, sprinkle the pumpkin soup with chicken, cauliflower and cream cheese with chopped parsley.
Enjoy your meal!
Also Like
Comments for "Pumpkin Soup with Chicken, Cauliflower and Cream Cheese"