Raspberry and Rhubarb Tart
by Editorial Staff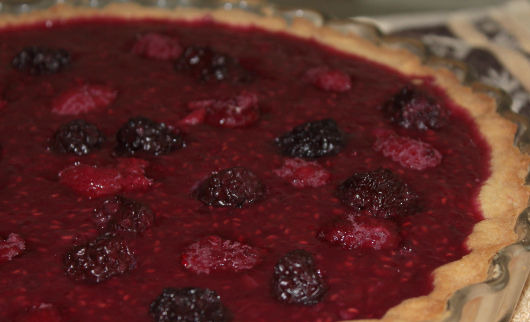 The tart is a French open shortbread cake with a filling. Well, the raspberry tart, the recipe for which I offer you, is a summer dessert that ends at a disastrous rate …
Servings: 8
Ingredients
– 300 g flour
– 200 g butter + a little to grease the mold
– 50 g icing sugar
– 150 g granulated sugar
– 2 yolks
– 1/4 teaspoon. salt
– 3 tablespoon. l cold water
– 400 g raspberries
– 200 g rhubarb
– 1 lemon (zest only)
– 20 g gelatin
– fresh berries for decoration (raspberries, blackberries)
– mint for filling (optional)
Directions
Preparation of shortcrust pastry for the tart. Grind softened butter with flour + salt + icing sugar + yolks + cold water. Put the finished dough in a bag and refrigerate for 20-30 minutes.
Grease the tart mold with butter, layout the dough (layer 1 cm), poke a few holes on the bottom with a fork, and bake for about 20-25 minutes at 180 degrees.
Soak gelatin in cold water (according to instructions).
Cut the rhubarb into small slices, put in a saucepan, add raspberries, granulated sugar, and cook for about 20 minutes, 5 minutes until ready, add lemon zest (and chopped mint – if desired).
Cool until warm, add gelatin, stir thoroughly so that there are no lumps. If the lumps have not disappeared, then put on fire and warm slightly, stirring constantly, until the lumps dissolve.
Pour warm jelly into the tart, after cooling, remove the tart in the refrigerator until it solidifies. When the jelly begins to solidify, sprinkle fresh berries on the open pie for garnish.
Enjoy your meal!
Also Like
Comments for "Raspberry and Rhubarb Tart"