Risotto with Tomatoes and Asparagus
by Editorial Staff
Tomato and Asparagus Risotto is one of my all-time favorite risottos. The combination of fresh asparagus, tomatoes, aromatic herbs and parmesan is the secret of this wonderful dish.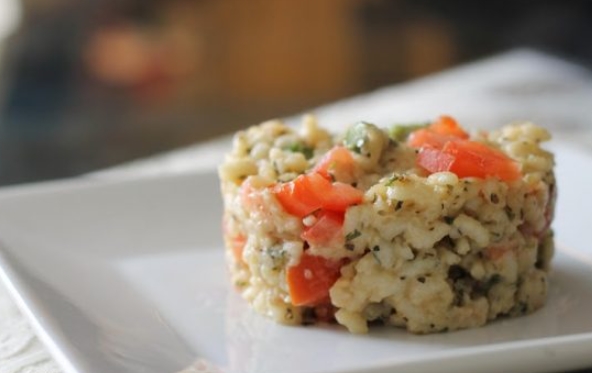 Servings: 3
Cook: 45 mins
Ingredients
Garlic – 4 Cloves
Asparagus – 200 Grams
Tomatoes – 100 Grams
Butter – 200 Grams
Greens – 3 tbsp (oregano, basil, parsley)
Directions
We put a saucepan with broth on medium heat and heat.

Heat the olive oil in a large skillet over medium heat. Put finely chopped garlic, fry for 2-3 minutes until the garlic is soft, then add rice. Fry rice with garlic for 2 minutes.

Add half a glass of broth and stir until completely absorbed.
We repeat the procedure until we evaporate half of the broth. Remember to stir the risotto frequently, otherwise, it will stick together.
Throw the asparagus into the remaining broth and blanch for 2 minutes over medium heat.
Remove the asparagus from the broth and add it to the risotto.
We continue to add hot broth to the risotto in small portions, evaporate it and cook the dish until the rice is cooked. When the rice is ready, remove the dish from the heat, add butter, parmesan, and herbs.
Risotto with tomatoes and asparagus is ready.
Bon Appetit! 🙂
Also Like
Comments for "Risotto with Tomatoes and Asparagus"