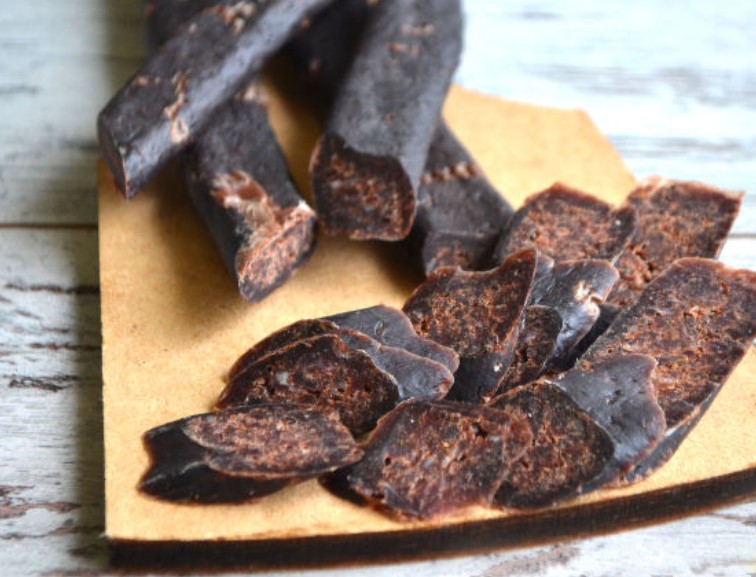 To prepare this homemade sausage, you will need to stock up on the necessary products, patience and time. After all, sujuk is prepared for at least 8 days, but the result will delight you and pleasantly surprise you.
Ingredients
Beef – 900-950 g
Salt – 1.5 tbsp
Sugar – 1.5 tbsp
Ground black pepper – 1.5 teaspoon.
Paprika – 2 teaspoon
Thyme – 1 teaspoon
Red wine – 150 ml
Peeled intestines – 2 pcs.
Directions
Products for cooking sujuk at home.

Pass the beef through a meat grinder, use a medium knife for this.
Add salt and sugar to the finished minced meat.
Add spices to the minced meat: pepper, paprika and thyme.
We also add red wine to the minced meat.
Knead the minced meat thoroughly with your hands and cover with cling film. Soak the intestines in water (if desired, you can pour in 1 teaspoon of vinegar). We put the minced meat and intestines in the refrigerator for 24 hours.
After 24 hours we take out the minced meat and intestines and begin to form the sausage. Using a meat grinder and a special nozzle for homemade sausage, fill the intestines with minced meat. If there is no meat grinder and nozzle, we fill the intestines with our hands, make sure that there is no excess air in the sausage; if you missed it, we pierce this place with a needle.
We tie the intestines on both sides with threads. We hang raw sausage on the cold balcony. It is very good to dry sausage on the balcony, as there is always cool and fresh air. It is advisable to put some kind of container on the floor, as juice will drip from the sausage. Leave the sausage in the refrigerator for 2-3 days.
After 3 days, the sausage will change color, and at this moment we begin to give the sujuk the desired flattened shape. We do this with an ordinary rolling pin – a couple of gentle and neat movements back and forth. We do this every day while the sausage is cooking. Cooking sujuk for 9-10 days. The beef sujuk sausage is ready.
Bon Appetit!
Also Like
Comments for "Sujuk"