Beetroot Soup with Tomatoes
by Editorial Staff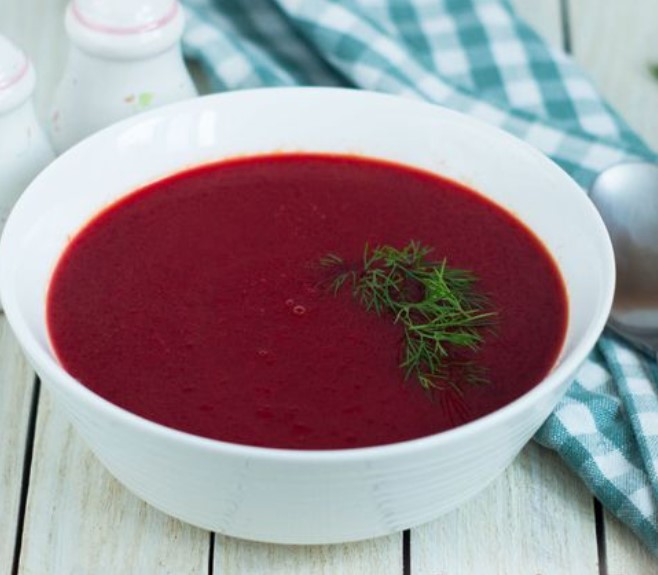 Thick hot beetroot puree soup is a good alternative to the usual borscht! This soup is very easy to prepare, it turns out to be delicate in texture and simply delicious in taste! All the ingredients you need to make this beetroot puree soup are affordable and affordable!
Cook: 3 hours
Servings: 3
Ingredients
Beets – 330 g (1 pc.)
Tomatoes – 270 g
Onions – 85 g
Sugar – 1/2 teaspoon
Dried thyme – 1/4 teaspoon
Salt – 1/3 teaspoon
Ground black pepper – on the tip of a knife
Vegetable oil (for frying) – 1-2 tbsp
Fresh dill (for serving) – to taste
Water – 700 ml
Directions
Prepare the food you need. Choose dark and sweet beets.

Rinse the beets and cover with water in a saucepan. Bring water to a boil and boil the beets for 1-1.5 hours, until cooked through. Beets should be soft on the inside. Remove the finished beets from the water and cool.
Peel and cut the onions into small cubes. Heat the oil in a heavy-bottomed saucepan or saucepan and add the chopped onion to it. While stirring, sauté the onion over medium heat for 3 minutes, until translucent.
Peel the cooled beets and grate them on a coarse grater. Add the chopped beets to the onions and simmer for 3 minutes.
Rinse the tomatoes and make a cruciform incision in each. Pour boiling water over the tomatoes and then soak them in ice water for 2 minutes. Peel off the skin. Cut the peeled tomatoes into small pieces.
Add chopped tomatoes to a saucepan, pour in boiling water and bring everything together to a boil.

Pour salt, sugar, black pepper and dried thyme into the soup. Stir and simmer over low heat for 10 minutes. Then whisk the contents until smooth with a hand blender.
Pour the beetroot and tomato puree soup into bowls. Top each serving of beetroot soup with herbs to taste, I used sprigs of fresh dill.
Enjoy your meal!
Also Like
Comments for "Beetroot Soup with Tomatoes"