Chapatis
by Editorial Staff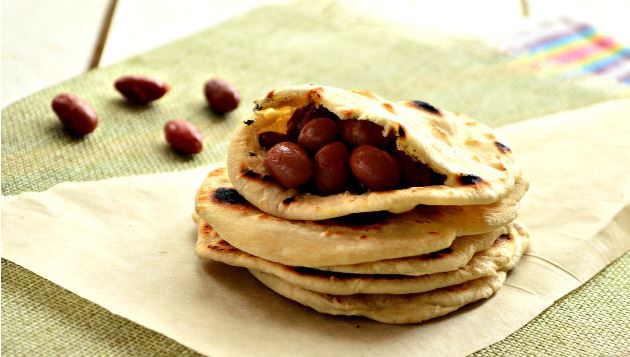 Chapatis are Indian wheat flour cakes with a hollow interior. Such unleavened cakes can be filled with filling or eaten just like that, like bread.
Ingredients
Wheat flour – 2 cups
Salt – 1 teaspoon
Hot water – 100 ml
Directions
Sift wheat flour into a bowl. Add salt and mix. Pour hot water into the flour. Begin to knead the chapatis dough.

The dough is of the same consistency as on dumplings: soft and not sticking to the palms. We do not use the dough immediately. Letting it "ripen". To do this, we transfer the dough into a cellophane bag. Let the dough stand for 2 hours. You can leave the dough overnight.
The allotted time is up. Tear off small pieces from the dough and form balls from them. Roll each ball on a surface dusted with flour into flat cakes (thickness – 5 mm).

We put a frying pan on the stove. We heat it up (do not add oil!). We spread the cake in a frying pan. Fry the chapatis on each side until golden brown. In the process, the cake begins to rise.
You can serve chapatis with filling, which we simply put in a hollow cake.
Ready-made chapatis.
Bon Appetit!
Also Like
Comments for "Chapatis"