Dumplings with Potatoes, in Tomato Sauce
by Editorial Staff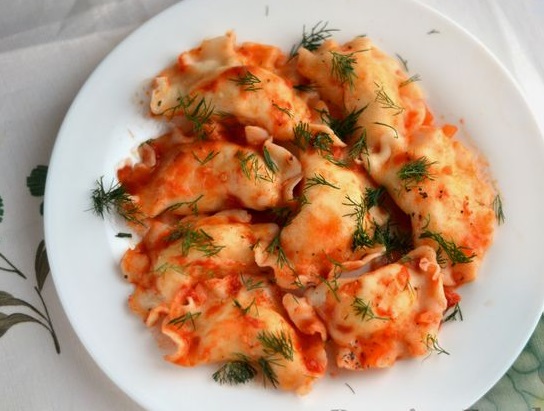 Everyone loves dumplings with potatoes! Usually, they are served with sour cream or fried onions, but you can get creative and serve dumplings in an unusual combination – in a fragrant tomato sauce. You will definitely like the dish. This is delicious!
Ingredients
Flour – 300 g
Water – 120 ml
Vegetable oil – 1 tbsp
Salt – 0.5 teaspoon
Potatoes – 500 g
Butter – 50 g
Salt to taste
Tomatoes – 300 g
Bulb onions – 1 pc. (100 g)
Vegetable oil – 2 tbsp
Dried basil – to taste
Salt to taste
Water – 50 ml
Fresh dill – to taste
Ground black pepper – to taste
Directions
We prepare the necessary products. During the preparation process, you will need a food bag/film and a glass with a diameter of 6-7 cm.

Sift flour into a bowl, add salt and water. We mix.
Knead the dough thoroughly. We add 1 tablespoon to it. spoon of oil and knead well again.
We put the dough in a food bag or wrap it with cling film. Leave the dough for 30-60 minutes at room temperature.
Peel the potatoes, wash them, chop them coarsely and fill them with water in a saucepan or stewpan. Add salt and cook potatoes until tender (20-25 minutes).
Peel the onion, wash and cut into half rings.
Wash the tomatoes, pour boiling water for a couple of minutes. Peel the tomatoes and cut them into thin slices.
Fry the onions over medium heat for 5 minutes, until golden brown. Add the tomatoes to the pan and fry with the onions for 5 minutes.
Then pour in 50 ml of water and simmer under the lid for 10 minutes. At the end, salt the tomatoes and onions to taste.
Drain the water from the pot with the finished potatoes. Mash mashed potatoes, add butter. Cool the potato filling.
Put the "rested" dough on a work surface dusty with flour. For the convenience of work, the dough can be divided into several parts. Roll out the dough into a thin layer approximately 2 mm thick. Using a glass, cut out circles with a diameter of 6-7 cm from the dough. Put about 1 teaspoon of potato filling for each circle of dough. We connect the edges of the dough over the filling and pinch, forming dumplings. From this number of products, I got 30 large dumplings.
In a saucepan, bring 2 liters of water to a boil, add 1 teaspoon of salt. Put the dumplings in boiling salted water and stir very gently so that they do not stick.
After they come up, cook them for another 3 minutes.
Put the finished dumplings with potatoes with a slotted spoon in a pan with tomato sauce. Add dried basil and simmer dumplings with potatoes in tomato sauce for 5 minutes.

We wash and grind fresh dill greens. Serve hot dumplings in tomato sauce, sprinkle with chopped herbs and black pepper.
Enjoy your meal
Also Like
Comments for "Dumplings with Potatoes, in Tomato Sauce"