Eggplant Chops
by Editorial Staff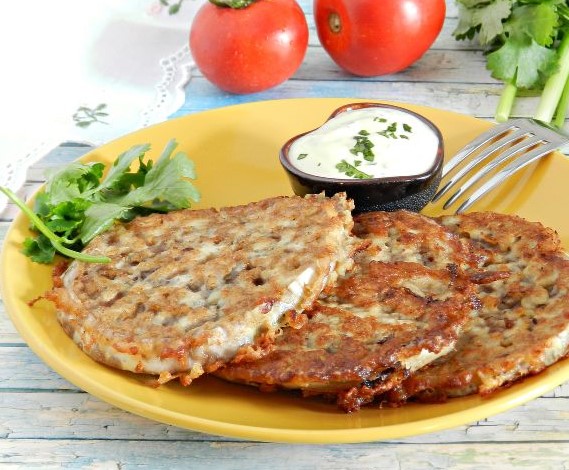 Eggplant chops, fried in batter, are delicious, soft on the inside and crispy on the outside. When serving fried eggplants, add a savory sour cream and mustard sauce.
Ingredients
Round eggplant – 1 pc.
Egg – 1 piece
Milk – 100 ml
Flour – 2 tbsp (with a slide)
Salt to taste
Ground black pepper – to taste
Dried garlic – to taste
Vegetable oil – for frying
*
For the sauce:
Sour cream – 2 tbsp
Hot mustard – 0.5 teaspoon
Fresh cilantro (or parsley) – to taste
Salt to taste
Pepper to taste
Directions
Round eggplants with tender flesh are best for making chops. They do not contain bitterness and do not need to be soaked first.
Wash the eggplant and cut into slices 4-5 mm thick. You can pre-peel the skin, if desired. I didn't clean.
Beat off the eggplant slices with a meat hammer. Do this carefully so that the circles remain intact.

Prepare the batter. To do this, mix the egg and milk, salt, pepper, season with spices, if necessary (I added a little dried garlic). Pour in flour, mix well so that there are no lumps
Dip the broken eggplant circles in the batter on both sides.
Heat vegetable oil in a frying pan and fry the eggplants in batter over medium heat until golden brown, about 2-3 minutes on each side.

Spread the fried eggplants on a paper towel to remove excess fat.
For the sauce, mix sour cream and mustard, season with salt and pepper, add finely chopped cilantro and stir.

Serve hot eggplant "chops" with a spicy sour cream and mustard sauce.
Enjoy your meal!
Also Like
Comments for "Eggplant Chops"