Italian "Grandma's Cake" (Torta della Nonna)
by Editorial Staff
There are recipes that you fall in love with while you cook! You try and understand: "It's magical! What you wanted!" Then you want to share, treat, tell everyone how delicious it is! This is how it happened with this Italian dessert called "Torta della nonna" – "grandma's pie (or cake)". Cook – and you will be stunned!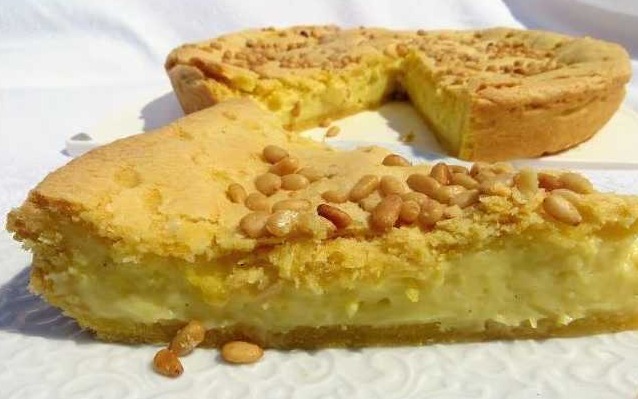 Ingredients
For the dough:
Powdered sugar – 200 g
Butter – 250 g
Yolks – 2 pcs.
Flour – 450 g
Salt – 1 pinch
For the cream:
Milk – 750 ml
Eggs – 3 pcs.
Lemon (zest) – 0.25 pcs.
or lime (zest) – 0.5 pcs.
Sugar – 6 tbsp
Flour – 6 tbsp
Vanilla sugar – 1 tbsp
Corn starch – 2 tbsp
Pine nuts – 50-70 g
Directions
We send icing sugar to soft butter.
Knead (grind) thoroughly with a fork.
Now add a pinch of salt and two yolks.

Gradually introduce flour. Grind into crumbs, it is best to continue stirring with a fork.
It's a wonderful crumb.
Putting the shortcrust pastry into a ball. If not, then you can add a spoonful of cold cream (or milk, or sour cream).
Divide the finished dough into two parts – one larger than the other. Wrap in plastic and refrigerate for at least 30 minutes.
While the dough is resting, let's start with the filling cream.
We send milk to the stove to boil. Add a few pieces of lemon zest (I have lime today). Be careful to add only the zest to avoid curdling the milk from the lemon juice.
When the milk begins to boil, remove the zest.
Combine sugar, vanilla sugar and eggs.
Mix well with a whisk. A mixer is not needed here, let everything happen as it once was in the kitchen of my grandmother.
And now gradually and carefully introduce hot milk in a thin stream. Stir constantly.
Pour back into the dish where the milk was boiled. Cook over low heat, stirring constantly (this is important) until the cream thickens. We are waiting for the first "gurgle" and turn it off.
Cover the well-cooled custard with foil. It is necessary to cover so that the film is in contact with the cream.
We take a form 26 cm in diameter (it is better to use a collapsible one, it will be easier to get the cake).
We roll out most of the shortcrust pastry into a layer 3-4 mm thick. You need to roll it out with a good margin so that the sides can be easily formed. To prevent the dough from sticking to the rolling pin and make it easier to work with it, roll it through cling film.
We transfer the dough layer to the mold. Cut the protruding part of the dough with a knife, level it.

Now let's prepare the "lid". Roll out a smaller piece of dough, cut out an even circle. Add another 1 cm to the dia of 26 cm – a pattern with an allowance. 🙂
We collect the cake. Put the custard in a mold with dough and align.
Slightly move the sides away from the form.
Cover the cream with the prepared top cake and fill its edges behind the base. We do everything carefully, the dough is tender and crumbly.
We prick the top with a fork so that excess moisture comes out during baking and the cake remains flat.
The final touch – sprinkle with pine nuts, lightly crushing them.
Preheat the oven and put the shortcrust pastry cake with custard to bake at a temperature of 175-180 degrees. In our oven, the cake was baked for 40 minutes, you focus on your oven.
Italian "Grandma's cake" ("Cake della nonna") is ready!

Delicate filling and crispy crust with nuts – delicious! You can lightly sprinkle the cake with powdered sugar.
Bon Appetit!
Also Like
Comments for "Italian "Grandma's Cake" (Torta della Nonna)"