Italian Spaghetti "Carbonara"
by Editorial Staff
Hearty spaghetti in the most delicate and spicy sauce based on cream and bacon. An excellent dish for a romantic dinner or family. For you a recipe for how to cook Italian spaghetti "Carbonara".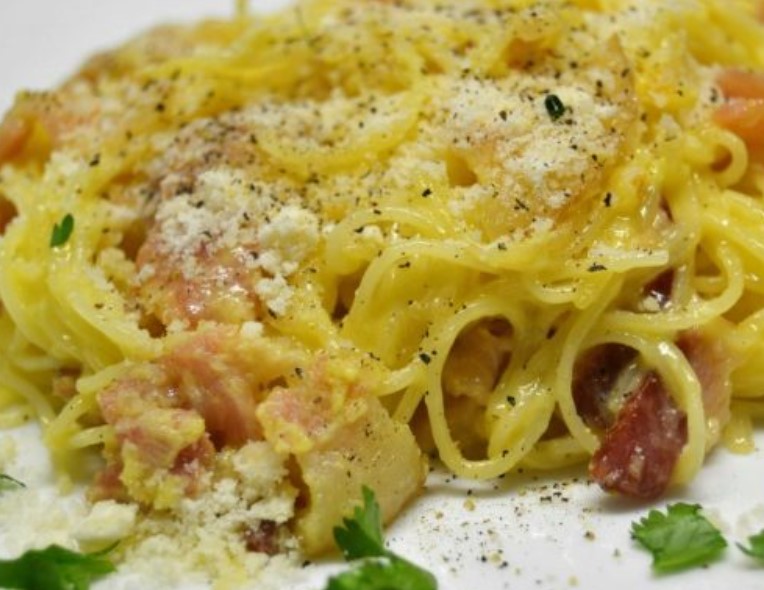 Cook: 20 mins
Servings:2-3
Ingredients
Spaghetti – 300 Grams
Bacon – 5 Slices
Onion – 1 Piece
Garlic – 1 Clove
Cream – 170 Milliliters
Eggs – 2 Pieces
Grated Parmesan – 5 Tbsp. spoons
Ground pepper – To taste
Directions
Cut the onion into small cubes and chop the garlic.
Cut the bacon slices into medium sized pieces.

Pour quite a bit of vegetable oil into a frying pan, put onions with bacon and garlic, stir, fry until golden brown.
In a separate saucepan at the same time, bring the water to a boil, put the spaghetti in it and simmer after boiling over low heat for 4 minutes. Drain the prepared pasta.
Put the boiled spaghetti in a skillet with the onion and bacon.
Beat chicken eggs into a separate bowl.
Add grated cheese to the eggs (3 tablespoons).
Pour the cream into a bowl and mix well.
Add sauce to hot spaghetti and stir; heat for a few seconds.

Serve immediately after cooking, garnish with ground pepper and grated cheese.
Bon appetit!
Also Like
Comments for "Italian Spaghetti "Carbonara""