Lasagna Recipe with Ricotta Cheese
by Editorial Staff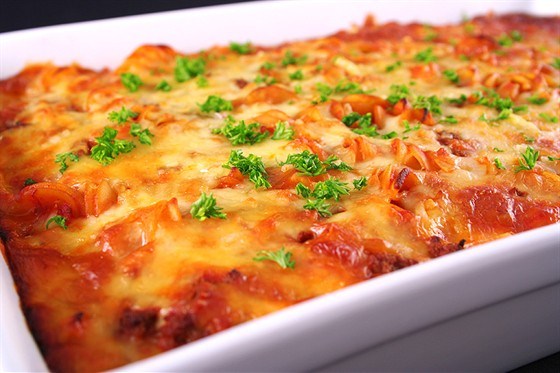 Today we are going to cook an Italian dish – lasagne. Almost all Italian cuisine is based on one secret recipe. This is a ricotta recipe, and first, we will make it ourselves.
Ingredients
Fettuccine paste 400 g
Olive oil 3 tablespoons
Garlic 5 cloves
Onion 1 head
Oregano 1/2 tablespoon
Tomato paste1 tablespoon
Bay leaf 1 piece
Tomatoes in their own juice 1 can
Salt to taste
White bread 1.5 pieces
Milk 0.3 cups
Minced meat 450 g
Pecorino Romano cheese 100 g
Chopped parsley 1/2 cup
Chicken egg 2 pieces
Ground black pepper 1 teaspoon
Vegetable oil 1 cup
Ricotta cheese 450 g
Mozzarella cheese 225 g
Instructions
For the tomato sauce, heat 3 tablespoons of olive oil over moderate heat and sauté the finely chopped onion in it until golden brown (about 6 minutes). Then add the crushed garlic (3 cloves), dried oregano, and sauté for 1 minute. Then, send the chopped tomatoes (without juice), tomato paste, bay leaf, salt (1 teaspoon) to the pan and cook, stirring occasionally, until thickened (30 -35 minutes).
Meanwhile, soak bread in milk for 10 minutes. Then add minced meat, garlic (2 cloves), grated pecorino cheese (half a cup), lightly beaten egg, parsley (1/4 cup), salt (1/2 teaspoon), and pepper (1/4 teaspoon) to a bowl of bread ). Stir with your hands until smooth and mold into small meatballs (1/2 teaspoon of minced meat per meatball). In total, you should get about 135 pieces.
Heat the vegetable oil over medium heat in a heavy saucepan and fry the meatballs in it, dividing into 5 batches. Fry each batch for 2 minutes and spread with a slotted spoon on a paper towel.
Mix ricotta with 1 egg, beaten fork, grated pecorino (half cup), parsley (1/4 cup), and salt (1/4 teaspoon).
Cook pasta in boiling water (6 liters) with salt (2 teaspoons). Cook for 1 minute less than indicated on the package, put in a colander, and rinse in cold running water.
Place 2 cups of tomato sauce in a glass or ceramic baking dish (approx. 26×18 cm). Put 1/3 of the fettuccine on top, on the pasta – all the meatballs, on them – another layer of tomato sauce (2 cups) and a third of the fettuccine. On the second layer of pasta, put the whole mixture of ricotta with pecorino and parsley, then the third layer of fettuccine and the remaining tomato sauce.
Cover the contents of the baking dish with an even layer of grated mozzarella, cover with foil and send to the oven, preheated to 200 degrees. Bake on a medium shelf for 10 minutes. Then remove the foil and place in the oven for another 20 minutes.
Cool before serving (about 20 minutes).
Also Like
Comments for "Lasagna Recipe with Ricotta Cheese"