Lavash Roll with Poppy Filling
by Editorial Staff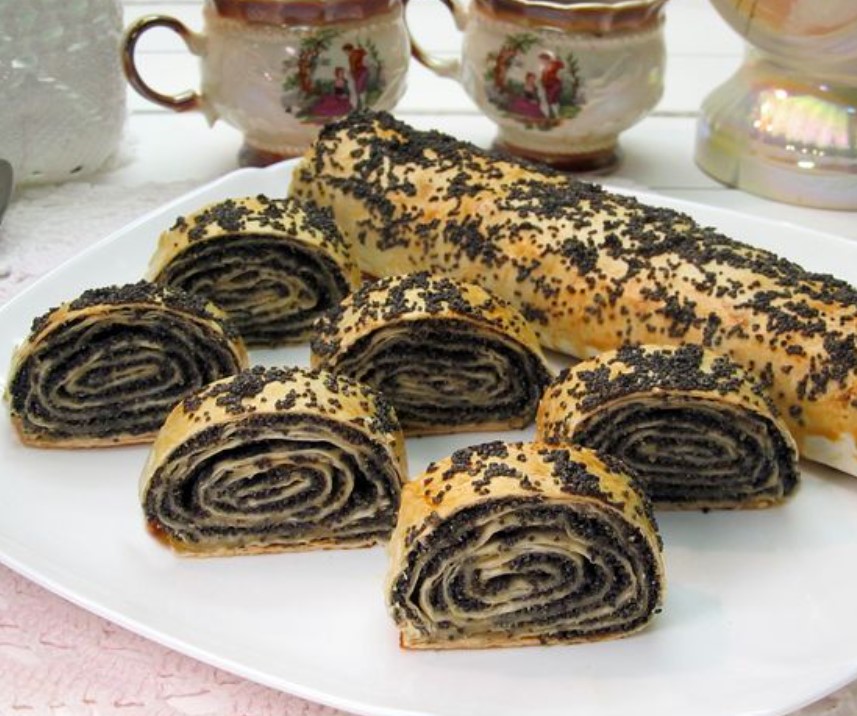 Lavash roll with poppy seeds is a thin crispy golden brown crust, sweet and aromatic poppy filling. The roll prepares very quickly, does not require any effort to knead the dough. These are really quick baked goods that you can make every day.
Ingredients
Thin lavash – 220 g (2 pcs.)
Milk – 300 ml
Poppy – 130 g
Honey – 100 g (to taste)
Egg – 1 pc.
Vanillin – 1-2 g
Directions
We prepare the necessary products.

Pour the poppy into a thick-walled saucepan and fill it with milk.
Cook the poppy seeds with milk over a slightly above medium heat, stirring occasionally, for about 10 minutes, until the poppy seeds absorb the milk. You do not need to cover the pot with a lid.
Let the maca cool to a warm state, then add honey and vanillin.
Separate the egg white from the yolk (the yolk will be needed later).
Add the egg white to the pot with poppy seeds.
We mix everything. The filling is ready. Set aside a little poppy filling (about 1 tablespoon) to decorate the roll. We turn on the oven to heat up to 180 degrees.
Apply half of the poppy filling to one pita bread.
We turn the pita bread into a roll.
We also fold the second roll. Cover the baking sheet with parchment and lay out the rolls. Lubricate the surface of the rolls with egg yolk
Divide the set aside poppy filling in half and apply evenly on each roll over the yolk.

We send the rolls with poppy seeds to an oven preheated to 180 degrees for about 20 minutes, until golden brown. Do not overexpose the pita rolls in the oven so that the crust does not dry out too much.
Cover the finished rolls with a towel and leave to cool. Then we cut the rolls with poppy seeds into portioned pieces and serve to the table.
Bon Appetit!
Also Like
Comments for "Lavash Roll with Poppy Filling"