Okroshka on Kefir and Carbonated Water
by Editorial Staff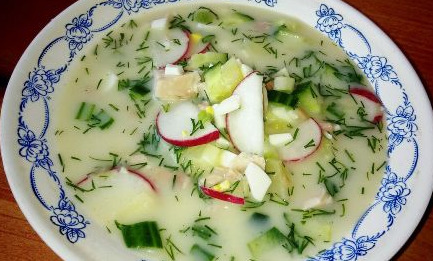 A low-calorie alternative to okroshka with kvass and sausage. Fresh and tasty summer soup.
Ingredients
Potatoes – 2 pcs.
Eggs – 2 pcs.
Fresh cucumber – 1.5 pcs.
Chicken fillet without skin – 250-300 g
Radish – 100 g
Green onions – to taste
Dill – to taste
Salt to taste
Hot mustard – 1-2 teaspoon
Low-fat kefir – 0.5 l
Carbonated water – 0.5 l
How to cook okroshka with kefir and carbonated water:
Directions
Boil potatoes and eggs, peel, and cut into cubes.
Boil the chicken fillet without salt and cut into small pieces.
Cut the radish into semicircles.
Cut the cucumber into cubes.
Chop the onion and dill.
Connect all components.
Add salt, mustard, kefir, and water just before serving, as the dry salad will last longer in the refrigerator. Or mix everything at once and serve if okroshka won't stand for a long time.
Enjoy your meal!
Also Like
Comments for "Okroshka on Kefir and Carbonated Water"