Pad Thai
by Editorial Staff
An exotic dish with a sweet and sour taste that is very easy to prepare at home. Buy suitable products – and go ahead, surprise your family and friends with a delicious Thai dish.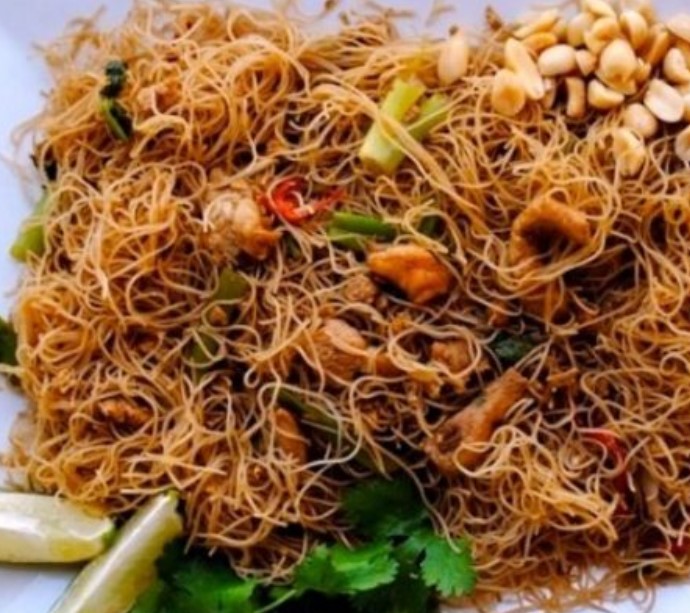 Cook: 30 mins
Servings: 3-4
Ingredients
Rice noodles – 350 Grams
Chicken breast – 300 Grams
Egg – 2 Pieces
Shrimps – 5-6 Pieces
Garlic – 2 Cloves
Soy sauce – 4 Tbsp. spoons (2 tablespoons for the sauce)
Fresh chili peppers – 1-2 Pieces
Vegetable oil – 2 Tbsp. spoons
Young green onions – 6 pieces
Brown sugar – 4 Tbsp spoons
Tamarind paste – 2-3 tbsp (can be replaced with 6 tablespoons of lime juice)
Fish sauce – 6 Tbsp. spoons
Soy sprouts or mung bean – 100 Grams
Lime – 1 Piece
Unsalted Roasted Peanuts – 1/2 Cup
Cilantro – 1 Bunch
Ginger – 1 Piece (3-4 cm.)
Directions
Wash the chicken fillet and cut into small strips. Peel the shrimps and, if they are large, cut into small pieces.
Send fillet and shrimp pieces to a bowl, pour 2 tbsp of soy sauce. Let's leave for a while, let it soak.

Rice noodles should be soaked in warm water for 5-6 minutes, and then discarded in a colander.
Cooking the sauce: mix brown sugar, tamarind paste, 2 tbsp of soy sauce, fish sauce. Mix well until smooth.
Let's prepare some more eggs, which we need to beat a little and fry, like an omelet. Then we will cut it into small strips.
Add garlic, ginger, pepper and green onion to a large hot skillet with vegetable oil. Fry over high heat for about a minute, stirring constantly.
Then we send the chicken and shrimps to the pan, fry for 3 minutes, and then add the omelet.
Now it is the turn of the noodles and sauce to go to the pan. We will add the sauce a little. Stir until all the sauce is absorbed into the noodles.

Then add chopped cilantro, onion feathers and soy sprouts. Stir, cover with a lid, remove from heat and leave for 5 minutes.
Serve Pad Thai with peanuts and lime wedges.
Bon Appetit!
Also Like
Comments for "Pad Thai"