Chicken Thai
by Editorial Staff
This Thai Chicken recipe will help you cook as well as authentic Thai restaurants. Perhaps the Thais themselves prepare the dish a little differently, but in any case, the recipe is very similar.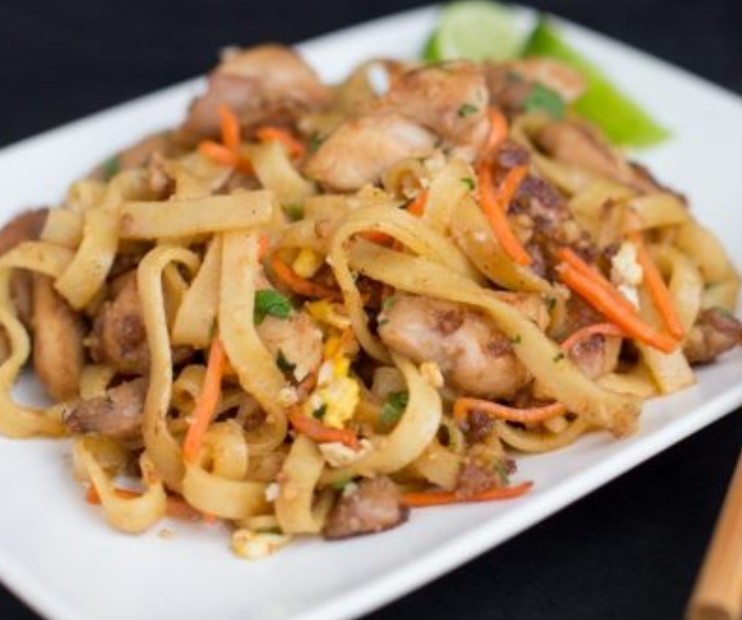 Cook: 30 mins
Servings: 3-4
Ingredients
Lemon juice – 2 Tbsp. spoons (Sauce)
Sugar – 1 Teaspoon (Brown is desirable, but not essential.)
Soy sauce – 2 Tbsp. spoons
Nuts – 50 Grams (Better macadamia, but you can also take regular peanuts.)
Honey – 1 Art. the spoon
Ground chili pepper – 0.5 Teaspoons
Salt – 1 Teaspoon
Peppercorns – 1 Teaspoon
Garlic – 2 Cloves
Butter – 1 Tbsp. the spoon
Chicken breast – 500 grams (Main dish. Boneless and skinless.)
Salt – To taste
Pepper – To taste
Egg – 2 Pieces
Noodles – 250 Grams (Egg, rice – any to your taste.)
Carrots – 1 Piece
Beans – 100 Grams
Nuts – 50 Grams
Kinza – 1 Art. spoon (Chopped cilantro.)
Lime Juice – 2 Teaspoons
Butter – 6 Tbsp. spoons
Directions
Let's make the sauce first. Place a small saucepan over medium heat. Melt butter (1 tablespoon) in it, then add crushed garlic and chopped nuts (50 grams) there. Cook it all for one minute.
Stir the lemon juice with the sugar, you can even melt the sugar in the juice in the microwave. Add sweet lemon juice to the saucepan, soy sauce, chili, salt and peppercorns. Stir everything and simmer for about four minutes. Then set it aside.
Take a frying pan, melt butter (6 tablespoons) in it, and line the sliced ​​chicken. Season with salt, pepper and fry on all sides, when all sides of the pieces change their color, set aside the chicken. Don't overcook it! We will still extinguish it.
Cook the noodles.
Boil the eggs and chop them into small pieces.
Return the chicken to the fire.

Fry it yourself until tender and add boiled noodles and eggs in just two minutes. Rub the carrots into thin strips. Add it along with the noodles and eggs.
Sprinkle nuts on the finished dish in the pan, stir with them. Your Thai chicken is ready!
Bon appetit!
Also Like
Comments for "Chicken Thai"