Thai Cashew Chicken
by Editorial Staff
In the piggy bank with simple and mouth-watering Asian dishes, I want to suggest you add this recipe. Spicy, juicy, unrealistically tasty chicken will definitely please you. Remember!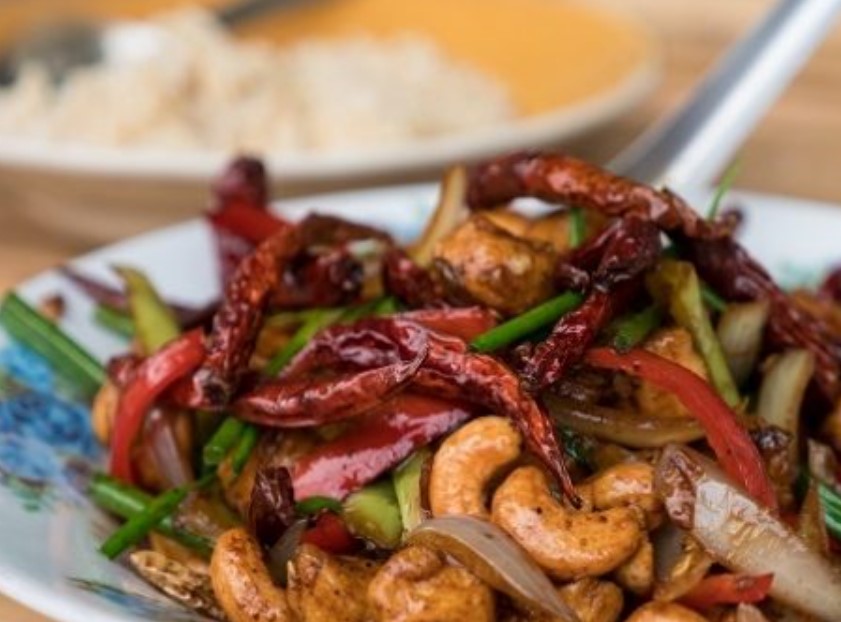 Cook: 15 mins
Servings: 2-4
Ingredients
Chicken Breast – 250 Grams
Flour – 1 Art. the spoon
Vegetable Oil – 1/3 Cup
Garlic – 1 Tbsp. the spoon
Onion – 1 Piece
Cashews – 1/2 Cup
Hot peppers and green onions – To taste
Soy sauce – 1 Tbsp. the spoon
Worcester Sauce – 1/2 Tbsp spoons
Water – 3 Art. spoons
Salt, sugar, pepper – 1 Pinch
Directions
These are the ingredients we will use.

First of all, put the oil to warm up. In a small bowl, combine soy and Worcestershire sauce, water, and a pinch of salt, sugar and pepper. Mix thoroughly.
Wash the chicken breast, dry it, cut it into small cubes and roll in flour.
Fry the nuts in hot oil for just a minute. Remove with a slotted spoon and set aside.
Next, send pepper to the pan. Also fry for just a minute and remove.
Fry the chicken for about 5 minutes until it becomes golden brown. Remove from pan and set aside.
Chop vegetables.
Put the garlic in the heated oil. After a minute, add the onion and the rest of the vegetables.

Fry for a couple of minutes, stirring occasionally.
Add the pre-cooked sauce, and after another minute add the cashews and chicken.
Before serving, add hot pepper to taste, stir gently. Here's a delicious Thai cashew chicken. Help yourself!
Bon appetit!
Also Like
Comments for "Thai Cashew Chicken"