Thai Chicken with Cashews
by Editorial Staff
Well, are we starting to get involved in Asian culture? This amazing cashew Thai chicken recipe is a great start for anyone looking to learn how to cook exotic dishes at home.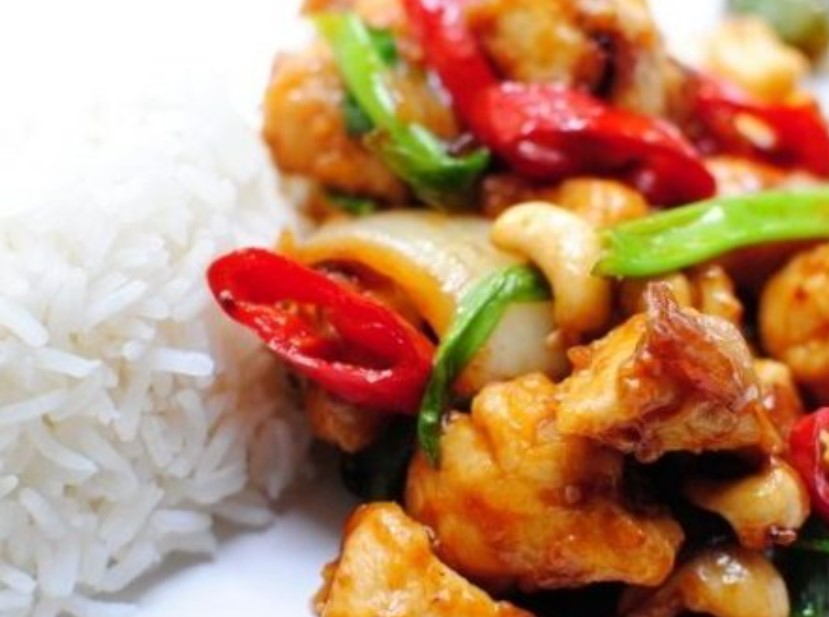 Cook: 40 mins
Servings: 2
Ingredients
Chicken fillet – 200-250 grams
Roasted Cashews – 50 Grams
Chili pepper – 1-2 Pieces
Sweet pepper – 0.5 pieces
Shallots – 1 Piece
Green onions – 3-4 Pieces
Garlic – 2-3 Cloves
Fish sauce – 1
Oyster sauce – 2 tbsp
Tomato paste – 2 tbsp
Flour – 2-3 Art. spoons
Chili Sauce – To taste
Sugar – To taste
Vegetable oil – To taste
Directions
Wash the fillet under cold water, dry it and cut into small pieces.
Next, chop the bell peppers, chili peppers, shallots and green onions into small pieces, chop the garlic.

Roll the sliced ​​chicken fillet in flour.
Heat the vegetable oil in a frying pan and fry the chicken in it until golden brown. We spread it on a napkin to remove excess oil.
Now again, pour the oil into the pan and put the chopped garlic on it, fry for half a minute.
Then spread the chopped peppers and shallots, fry for another 2-3 minutes.
Add cashews and fry together for a minute.
Add oyster and fish sauces, tomato paste and sugar, mix well.
Now we spread the fried chicken, fry everything together for 1 minute.

And the very last to throw in the green onions, mix and remove from heat. The Thai chicken is ready and you can taste it.
Bon Appetit!
Also Like
Comments for "Thai Chicken with Cashews"