Thai Chicken Soup
by Editorial Staff
Thai Chicken Soup is a perfectly balanced combination of sweet and salty, topped with spicy notes. The soup is fresh, bright, light and satisfying at the same time. The main thing is to find all the ingredients.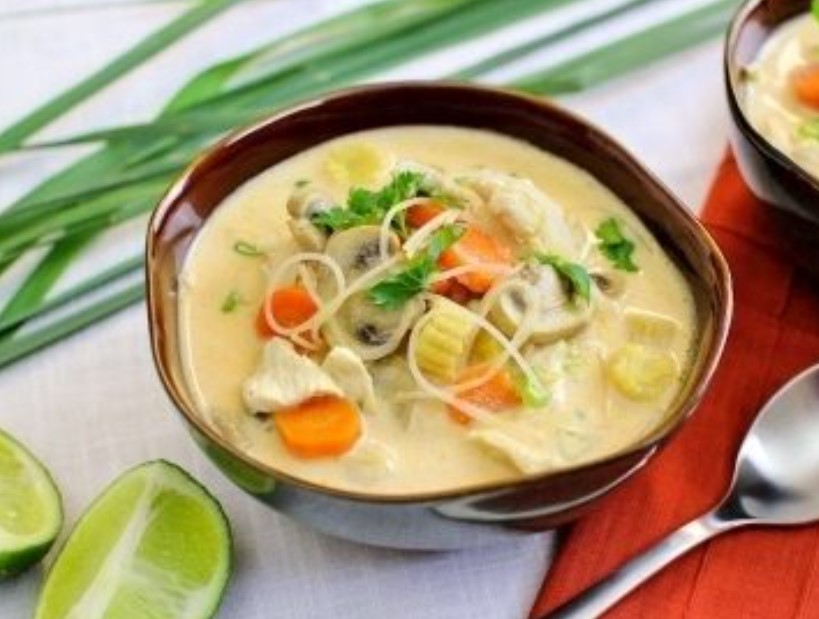 Cook: 50 mins
Servings: 6
Ingredients
Chicken breast (fillet) – 1 Piece
Champignons – 200 Grams
Lemon Grass (Stem) – 1-2 Pieces (Lemongrass or Lemongrass)
Fresh ground ginger – 1-2 teaspoons
Green onions (feathers) – 3-5 Pieces
Vegetable oil – 2 tbsp
Chicken Broth – 4 Glasses
Canned coconut milk – 400 Milliliters
Carrots – 2 Pieces
Jalapeno pepper – 1 Piece
Canned mini corn – 400 Grams
Rice Noodles – 1 Cup
Fish sauce – 2 Tbsp. spoons
Red Curry Paste – 2-4 Teaspoons
Lemon – 1 Piece (You need the juice of one lemon.)
Onion – 1/2 Piece
Parsley – – To taste
Salt – – To taste
Directions
Cut the chicken breast into small pieces.
Rinse the champignon and cut into slices.
Peel the stem of the lemon grass from the top layer, cut into pieces, get rid of the hard parts of the grass.

Peel the ginger and chop finely. Or wipe it in a mortar.
Peel and finely chop the onion.
Peel carrots, rinse and cut into rings.
Chop the rice noodles with scissors. We will need a glass of such shredded noodles.
In a saucepan over medium heat, heat vegetable oil. Fry chopped onion and chopped ginger in it. Fry, stirring occasionally, for 3-5 minutes, until the onions are tender
Add cooked lemongrass to the pot.
Add broth to fried onions and ginger. Bring it to a boil, then simmer for 15 minutes.
After 15 minutes, strain the broth using a sieve.
In the same saucepan, add some more oil and fry the sliced ​​carrots and chopped jalapenos.
Cook over medium heat for 5 minutes until the carrots are tender.
Add strained broth to carrots and jalapenos.
Add 200 ml coconut milk (half of the recipe).
Add soy or fish sauce to the soup. They are used interchangeably here.
Add mushrooms.
Cut mini corn into 4 pieces and add to soup. Simmer the soup over medium-low heat for 3 minutes.
After 3 minutes, add the chicken pieces
After the chicken, add the chopped rice noodles to the soup. Stir.

Add another 200 ml of coconut milk, stir and cook for 3 minutes.
Remaining in Thai chicken soup add red curry paste, juice of one lemon and salt.
Serve Thai chicken soup in portions garnished with parsley and green onions.
Bon Appetit!
Also Like
Comments for "Thai Chicken Soup"