Potato Meatballs with Stew
by Editorial Staff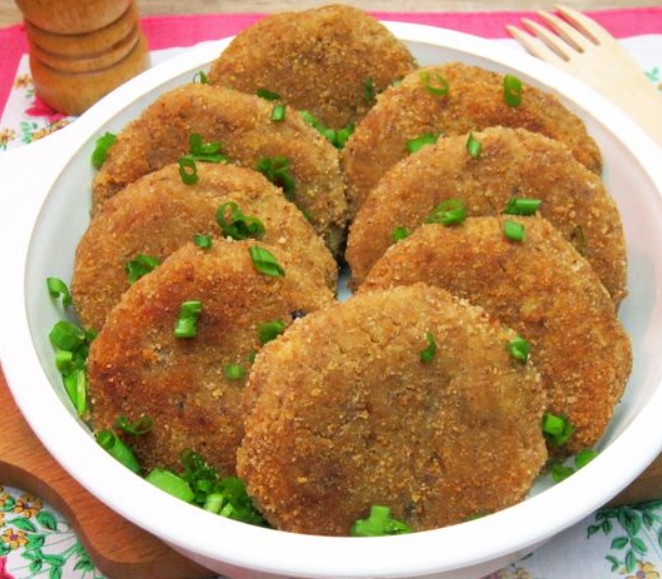 These rosy meatballs with an appetizing crust are prepared from simple and affordable products – potatoes and stew. Potato meatballs with stew are very satisfying and tasty.
Ingredients
Potatoes – 300 g
Stew (any: pork, chicken, beef) – 250 g
Egg – 1 pc.
Butter – 65 g
Vegetable oil – 50 ml
Milk – 50 ml
Salt to taste
Bread crumbs – 70-90 g
Bay leaf – 1-2 pcs.
Directions
We prepare all the necessary products.

Peel the potatoes, cut them into pieces, fill them with a little water (to completely cover the potatoes), lightly add some salt and add bay leaf. Boil the potatoes until soft, about 15 minutes.
Grind the stew with an immersion blender.
Drain the water from the potatoes and knead in mashed potatoes.
Pour milk into mashed potatoes and put 25 g of butter.
Stir the puree until smooth and let it cool slightly.
Add the stew, an egg and 40 g of bread crumbs to the warm mashed potatoes. If the mass for the meatballs seems a little thin, add another 20 g of bread crumbs.
Stir until smooth. Add salt if necessary.
We form round beats. I got 10 pieces. Roll the meatballs in the remaining bread crumbs.
In a frying pan, heat 20 g of butter, 20-25 g of vegetable oil. Put the meatballs in the pan.

Fry potato meatballs with stew over medium heat until golden brown on both sides. Add the remaining butter and vegetable oil as needed.
Put the finished potato meatballs with stew on a plate. You can serve fresh vegetable salad with the meatballs.

Enjoy your meal!
Also Like
Comments for "Potato Meatballs with Stew"