Pumpkin Muffins with Poppy Seeds and Lemon Icing
by Editorial Staff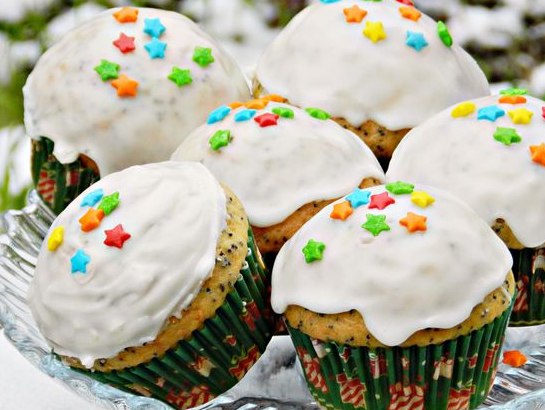 Delicate, soft, incredibly tasty muffins with pumpkin and poppy seeds. They will appeal to both children and adults. The lemon glaze attracts special attention, it gives the pumpkin muffins a pleasant sourness and elegant appearance.
Ingredients
For the dough:
Flour – 150 g
Pumpkin (raw) – 150 g
Poppy (dry) – 20 g
Chicken egg – 1 pc.
Sugar – 120 g
Vegetable oil (odorless) – 50 ml
Baking powder – 0.5 teaspoon
For the lemon glaze:
Powdered sugar – 4 tablespoon
Lemon juice – about 2 tablespoon
For decoration (optional):
Culinary sprinkles
Instructions
Pour poppy seeds into a small sieve, rinse, pour boiling water over and leave for 15 minutes. Then drain the water, drain the poppy. Peel and seed the pumpkin. Grate the pumpkin pulp on a medium grater. Break the egg into a bowl, add sugar and beat with a whisk. Pour in vegetable oil and beat together. Oil should be used refined, light, odorless.
Add grated pumpkin to the eggs, squeezing it out of the juice. Pour in the poppy seeds, mix. Gradually add flour mixed with baking powder. Knead into a thick muffin dough.
Put paper tins in a baking dish. If there are no paper molds, metal molds should be greased with oil, and silicone molds should not be lubricated. Spread the dough into the molds. Put the dish in an oven heated to 180 degrees, bake muffins with pumpkin and poppy seeds for 20-25 minutes. Remove the finished pumpkin muffins from the oven and cool.

Prepare lemon frosting. To do this, pour the icing sugar into a bowl. Gradually add lemon juice over a teaspoon and stir immediately. As soon as the glaze gets the desired consistency, it is ready. You should not add all the lemon juice right away so as not to get a liquid, flowing glaze.
Cover the cooled pumpkin muffins with lemon icing. Decorate with culinary sprinkles if desired.
Delicious and flavorful lemon frosting muffins are ready.
Bon Appetit!
Also Like
Comments for "Pumpkin Muffins with Poppy Seeds and Lemon Icing"