Salted Cucumbers on Mineral Water
by Editorial Staff
Using this recipe, you can pickle cucumbers very quickly. Lightly salted cucumbers on mineral water are very tasty and crispy, and you can eat them the very next day.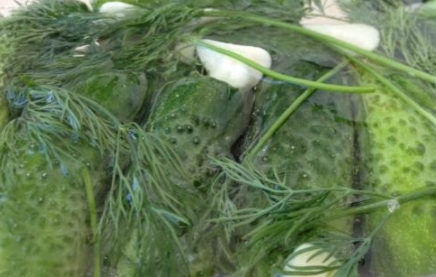 Ingredients
Cucumbers – 1 kg
Dill (or parsley) – to taste
Garlic – 3-4 cloves
Salt – 1.5-2 tbsp
Mineral water with gas – 1 l
Directions
To cook cucumbers on mineral water, we prepare the necessary ingredients according to the list. It is advisable to choose small cucumbers.

Cut the edges from the cucumbers on both sides.
Cut the garlic into slices.
To the bottom of the container in which we will marinate, we send part of the greens. Then place one row of cucumbers tightly. Distribute the greens on top again and sprinkle with garlic. We put another row of cucumbers on top, the remaining herbs and garlic.
Pour 1.5-2 tablespoon into a separate container. tablespoons of salt without a slide. Fill the salt with mineral water. Stir until completely dissolved.
Fill the cucumbers with brine so that they are completely covered with liquid. We cover with a lid and send to the refrigerator for 12-14 hours.
Lightly salted cucumbers on mineral water are ready.
Also Like
Comments for "Salted Cucumbers on Mineral Water"