Solyanka with Smoked Meats and Chicken Meatballs
by Editorial Staff
Nourishing and aromatic hodgepodge with smoked meats and chicken meatballs. Slight sourness in taste is provided by pickles, tomato paste, and lemon wedges when served. It takes a little time to prepare such a soup, since the smoked meats are already ready for use, and the chicken meatballs do not cook for long. It turns out a very tasty first course!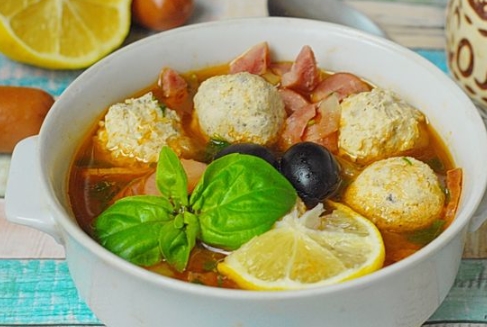 Cook: 1 hour
Servings: 4
Ingredients
Minced chicken – 180 g
Ham – 75 g
Semi-smoked sausage – 75 g
Sausages – 60 g
Pickled cucumbers – 60 g
Onions – 80 g
Tomato paste – 1 tbsp
Pitted olives – 5 pcs.
Bay leaf – 1 pc.
Fresh parsley – 5 g
Salt to taste
Ground black pepper – 0.75 teaspoon (or to taste)
Sunflower oil – 40 ml
Water – 600 ml
For filing:
Lemon – 2-3 slices
Fresh greens (I have basil) – to taste
Directions
Let's prepare the necessary ingredients.

Peel the onions and cut them in half. Chop 1 half onion in a blender.

Add the minced chicken to the chopped onion and beat in a blender to make the minced meat more uniform.
Pour salt into the minced meat (0.25 teaspoons or to taste) and black ground pepper (0.5 teaspoons). Let's mix.
Shape the minced meat into about the size of a walnut.
Boil water in a saucepan.
Put the meatballs in boiling water. We will cook from the moment of boiling for 15 minutes.
During this time, we will prepare other ingredients. Finely chop the cucumbers and the remaining half of the onion.
Heat vegetable oil in a frying pan and fry the onions for 5 minutes.
Then add cucumbers, tomato paste, and 50 ml of water.
Simmer for 10 minutes, stirring occasionally.
Cut ham, sausage, and sausages into random pieces.
Chop the parsley finely.
Add fried onions, cucumbers and tomato paste to the meatballs.
Then add the chopped meats and bay leaves.
We will cook for another 5 minutes.
At the end add olives, add black pepper to taste, and chopped parsley. Let's try for salt and add more if needed.

Pour the hodgepodge with smoked meats and chicken meatballs into plates, garnish with fresh herbs, and serve with a slice of lemon.
Enjoy your meal!
Also Like
Comments for "Solyanka with Smoked Meats and Chicken Meatballs"