Strawberry Cake
by Editorial Staff
A simple recipe for a delicious summer sponge cake with strawberries. If you want to know how to make the Strawberry Box Cake, follow my recipe. It will be delicious, juicy and strawberry!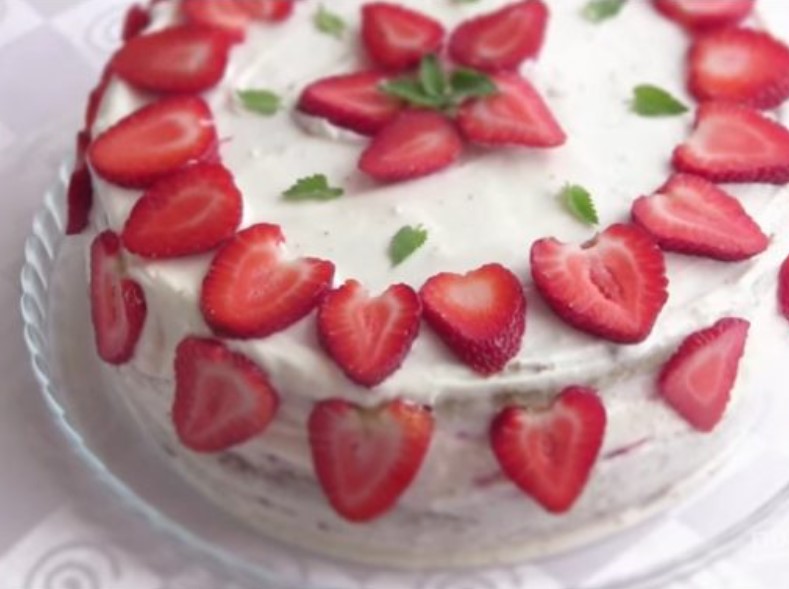 Cook: 3 hour
Servings: 5-7
Ingredients
Flour – 100 Grams
Starch – 100 Grams
Sugar – 200 Grams
Eggs – 6 Pieces
Baking powder – 1 teaspoon
Vanillin – 1 Pinch
Sour cream – 1 Liter
Powdered sugar – 200 Grams
Strawberry – 0.5 Kilogram
Sour cream thickener – 12 Grams (2 sachets)
Directions
To prepare the biscuit, separate the whites from the yolks. Beat the whites with a mixer until a thick, stable foam. Then gradually add sugar and beat the whites until it dissolves.

Add one yolk to the whites, beat with a mixer until smooth.
Sift flour, baking powder and starch, add portions to the egg mixture and stir very gently with a spatula in one direction. Don't forget to add a pinch of vanilla.
Cover a baking dish with parchment, pour the dough into it. Bake at 180 degrees for 30-40 minutes. Turn the finished biscuit onto a wire shelf to cool.
Cut the cooled biscuit, remove the pulp. Leave the sides.
Whisk sour cream with powdered sugar, and then add a thickener. The cream will be the desired dense consistency.
Put the cream, strawberries cut into slices, crumb inside the cake. Then repeat all layers.

Cover the cake with the cut "lid" and brush the top and sides with cream. Garnish with strawberries and mint sprigs. When the cake is in the refrigerator for a couple of hours, you can eat it.
Bon Appetit!
Also Like
Comments for "Strawberry Cake"