Stuffed Crab Sticks
by Editorial Staff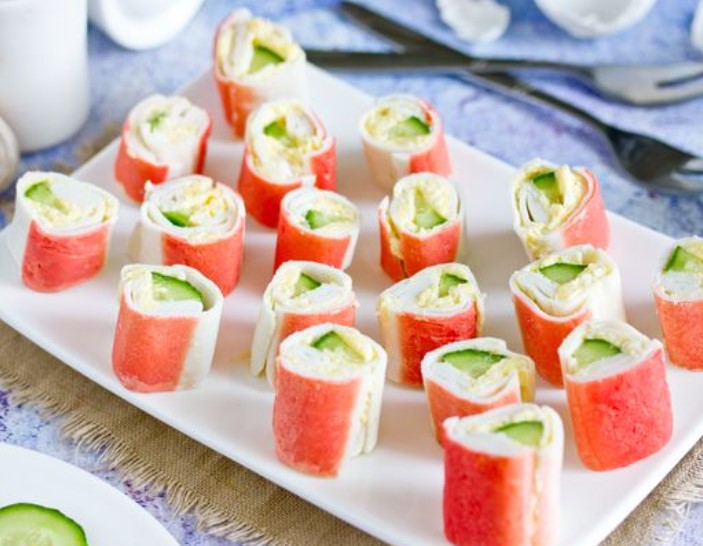 Great appetizer of crab sticks with cheese and egg filling and fresh cucumber! Stuffed crab sticks in this serving look like rolls and have a bright, memorable taste!
Cook: 30 mins
Servings: 2
Ingredients
Crab sticks – 8 pcs.
Egg – 1 pc.
Hard cheese – 50 g
Garlic – 1 clove
Mayonnaise – 0.5 tbsp
Fresh cucumber – 0.5 pcs.
Salt – 1 pinch
Ground black pepper – 1 pinch
Directions
Prepare all the ingredients needed to make the stuffed crab sticks.

Boil the egg for 10 minutes (hard boiled). Cool the egg in cold water, then peel it. Grate the egg with a fine grater.
Add hard cheese grated on a fine grater to the grated egg.
Peel and grate a clove of garlic directly into a bowl of cheese and egg.
Season cheese, egg and garlic with mayonnaise. Pour in a pinch of salt and black pepper.
Stir.

Wash the fresh cucumber and cut into long slices the size of crab sticks.
Peel the crab sticks from the packing material and unfold each crab stick. An important point: crab sticks must be chosen so that they easily unfold into a tape. I missed this moment, the crab sticks did not unfold well and torn, although in the end the rolls turned out and kept their shape, but I had to tinker.
On an unfolded crab stick, on one side along a narrow edge, lay out a part of the cheese and egg spread. Place a slice of fresh cucumber on it.
Roll the crab stick back into the roll.
In this way, stuff all the crab sticks. Cut the crab rolls into 3-4 segments.

Place the crab rolls vertically on a plate.
Stuffed crab stick appetizer is ready.
Bon Appetit!
Also Like
Comments for "Stuffed Crab Sticks"